Plant-Based Spinach & Hibiscus Sopes from Kate Ramos
Plant-Based Spinach & Hibiscus Sopes from Kate Ramos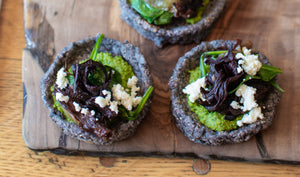 Sopes are one of our favorite masa shapes. These antojitos ("little whims") are thick pancakes with a raised rim, perfect for retaining toppings.

Kate Ramos, of the blog ¡Hola! Jalapeño, was kind enough to share her recipe for these vegetarian (vegan, if you omit the optional cheese) sopes with their delicious filling of spinach, hibiscus, and caramelized onion, from her cookbook, Plant Powered Mexican. The filling is a perfect use for spent hibiscus flowers left over after making agua de jamaica.



From the book:

Sopes are just one of the hundreds of things you can make with a lemon-sized ball of masa dough. This simple combination of masa harina, water, and salt can be shaped, filled, flattened, toasted, fried, or baked into a mind-blowing array of snacks, sides, and meals.

If you are lucky enough to find fresh masa, which is simply rehydrated field corn that has been ground into a dough, I encourage you to play around with that as well. You can use it just as it is, no need to add anything. Form it into the sopes shape described below and cook as instructed.

The sopes are best made and eaten right away. If you'd like to make them in advance, keep warm in a clean kitchen towel or tortilla warmer. Then rewarm when you are ready to eat by brushing the bottoms with a little oil, filling with the jamaica mixture, and toasting in a hot frying pan, covered with the lid, until hot to the touch.