Agua de Jamaica with Heirloom Hibiscus
Agua de Jamaica with Heirloom Hibiscus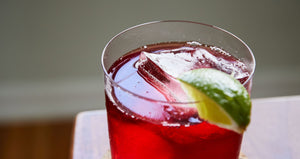 Hibiscus, or jamaica, is a flower with a wide range of culinary uses – from steeping it into a tea to cooking it into your favorite sweet or savory dishes – you can go wild experimenting with this delicate and versatile flower.
Our whole-flower hibiscus comes from the same farmers who grow Masienda's corn and beans in coastal Oaxaca, where the hibiscus is grown as a companion plant in their milpas.


Each flower is hand picked and slowly sun dried, in order to maintain the highest integrity possible – it makes for a juicier flavor with a floral, citrusy finish and naturally-stunning crimson color.
You can typically find dry hibiscus flowers in most supermarkets, though most commodity varieties have dyes added to increase the vibrancy in color – we think hibiscus is vibrant as it is! No need for additives, that's for sure.
How to make hibiscus tea
Agua de Jamaica, literally translated to mean hibiscus water, is one of the most classic and simple uses of the hibiscus flower, and is the gateway to cooking with it as well! When cooking with hibiscus, most recipes call for boiling or steeping the flowers to rehydrate them before using, which is the key component of making hibiscus tea.. So here we go – step one of using your whole hibiscus flowers.
Agua de Jamaica is typically sweetened with cane sugar when you find it at a restaurant or taqueria, but we like to embrace the tartness of the flower, and leave the sweetening up to personal preference. If you don't add any sugar to the tea when it's steeping, you can make a simple syrup to have on hand so your guests can sweeten the tea to their liking. Unsweetened jamaica has a certain zing to it that may be a bit tart for some, especially the kids, so sweetening it as you go is our favorite option for not having to add sugar to the whole batch.
We love drinking our agua de jamaica on a hot summer day with a fresh squeeze of lime or orange, topped with sparkling water for a refresher, or mixed into a mezcal cocktail – there's really no wrong way to enjoy it.
Our recipe is at the bottom of the post (is it a recipe if there are only two required ingredients?) but take a peek below at our ideas for using the "spent" hibiscus – you don't have to throw away the flowers after their use, making tea is just the starting point!

How to repurpose hibiscus flowers after making tea
Once you've strained the flowers out of your tea, save them! They're full of great flavor and vibrant color. Put them in an ice cube tray and fill with water for a beautiful garnish, or sauté them with olive oil and garlic as a delicious filling for quesadillas, tacos or tamales. You can even steep them again in boiling water and, after cooling and straining, use that water as a beautiful natural dye for handmade tortillas! Just sub out a portion of the water in your favorite tortilla recipe for the bright pink liquid.