Vegan Pozole Verde to Warm Your Bones
Vegan Pozole Verde to Warm Your Bones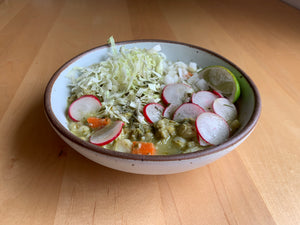 Chef Efrén Hernández has become known for his global twist on modern American cuisine, first at New York City's Mimi and Babs where he received two stars and a critic's pick from Pete Wells of the New York Times, and then as Executive Chef at the revered Tavern restaurant at Rivertown Lodge in Hudson, New York. When the same hotel group opens Camptown across the river this spring, Hernández will get to dig in to his Guadalajaran roots at the onsite Casa Susanna restaurant.

His recipe for green pozole is based on one he ate a lot growing up. "It's one of my favorite foods, because it sends me right back to Inglewood, California, sitting in my mom's kitchen while she stands over the comal and makes tostadas for us to eat with her pozole," he says. "When I moved to Hudson and had people over for my birthday, I made a vegetarian version for the first time for some vegetarian friends, and they loved it. It's super flavorful. With Casa Susanna at Camptown, I'm thinking about having pozole as a special pretty often and probably mixing it up a lot — red, green, veggie, pork, seafood etc. Try to have some fun with it!"

This recipe for a vegan pozole verde has deep layers of flavor from a tomatillo and chile base, nixtamalized heirloom corn, and sauteed seasonal vegetables. Pozole is an excellent way to get your feet wet nixtamalizing corn, as it takes the grind out of the equation. Although we think of pozole as a cold weather stew, chef Hernández suggests swapping out the cauliflower, carrot and celery for whatever hearty vegetables are in season (mushrooms would be particularly delicious). This recipe is a multi-step project but makes a massive batch — so feel free to halve it or freeze your leftovers for later (sans toppings, of course).