Rick Martínez's Mole Amarillo is Perfect for a Winter's Night
Rick Martínez's Mole Amarillo is Perfect for a Winter's Night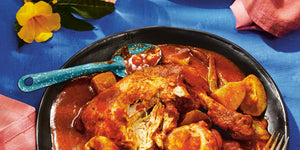 We consider ourselves devout Rick Martínez fans. Last year when we launched a limited edition 'Sassy Pink' Doña Rosa Tortilla Press to celebrate his bestseller, Mi Cocina, it became all too clear that we were not alone — the Rick (and Choco) Fan Club rolls deep. The collab sold out in record time. We can't stop cooking our way through his book — Pollo al Pastor, anyone? — and he was gracious enough to share another winning recipe with our readers. 

Like many traditional moles, the recipe below for Mole Amarillo below has a long list of ingredients. Don't be daunted though — the end result is nothing short of magical. We love this recipe on a wintry night, but it's just as delicious with summer squashes for when the weather is warmer. And if you're only familiar with mole negro, the deep brown mole typically made with chocolate and blistered chile chilhuacles, which lend it its dark color, you're in for a great surprise. Mole amarillo is lighter and brighter, with tomatillos, hoja santa, and veggies like green beans, chayote, and potatoes. Rick's recipe calls for chochoyotes, but we also love mole amarillo with tortillas or spooned into Oaxacan-style empanadas that can be cooked on the comal. Read on for the recipe. ¡Provecho! 
*                     *                    * 
By Rick Martínez 
This is another one of those dishes that is very hard to replicate because the chiles can be difficult to source outside of Oaxaca. But I have given substitutes because, unlike chiles for mole negro, I believe the chilhuacles amarillos used for mole amarillo can be substituted with the more common chile guajillo without compromising the flavor of the overall dish. This is also another case where I want you to make this dish and then immediately book your trip to Oaxaca to experience this mole on site, the way that it should be made. I also love this dish because of the chochoyotes, which are masa dumplings with a dimple in them that holds onto the mole. Growing up in Texas, my mom made chicken and dumplings when it was cold and dreary out, and it was like getting a hug and kiss from her. This dish could be the Mexican comfort equivalent with chicken, a rich and thick, albeit spicy stew, and soft maíz dumplings cooked in that rich bright, spicy, and slightly sweet mole.


Reprinted with permission from Mi Cocina: Recipes and Rapture from My Kitchen in Mexico by Rick Martinez copyright © 2022. Photographs copyright © 2022 by Ren Fuller. Published by Clarkson Potter/Publishers, an imprint of Penguin Random House.