Hibiscus Pan de Muerto With a Corn-y Twist
Hibiscus Pan de Muerto With a Corn-y Twist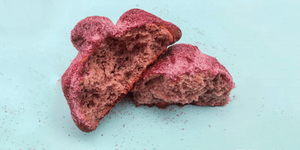 Across Mexico and in Latinx communities in the US, fall means pan de muerto season. Pan de muerto is a type of pan dulce traditionally baked during the weeks leading up to Día de los Muertos (the Day of the Dead). Its distinctive shape (round, and decorated with a skull and crossbones motif), fragrant orange flavor and spongey texture with crunchy sugar topping (perfect for dunking into coffee or hot chocolate) are a sweet way to begin the celebrations.

Pan de muerto decorations and flavors vary from region to region: the classic round version with white sugar is known as hojaldras. As legend has it, according to Mexican Food Journal, pan de muerto's history can be traced back to the time of the Spanish conquistadors. Disturbed by the tradition of human sacrifice as a way of thanking gods for a good harvest, the Spanish Catholic priests instead baked bread to represent the hearts of the women who were to be sacrified and covered it with red sugar, representing their blood.

Mayra Sibrian (the owner of Seattle's Selva Central Goods, a pop-up bakery inspired by her Mexican and Salvadoran roots) created a special twist on the classic pan de muerto that harkens back to its roots, utilizing our Heirloom Red Corn Masa Harina. Beet powder and whole flower Heirloom Hibiscus add to the distinct deep red hue of the pan de muerto, lending additional depth of flavor.