The Crucial Last Step to Making Homemade Tortillas
The Crucial Last Step to Making Homemade Tortillas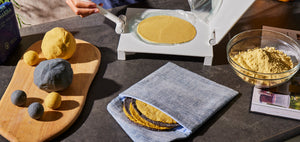 It's a sad day when the bottom falls out of your taco. There are few worse feelings than the moment that juicy guisado you worked so hard to prepare ends up on your lap or the floor. The problem is a too-stiff tortilla, and there's a cure. The answer is a tortilla warmer.
A taco is only as good as the tortilla it rests upon, and at Masienda, we take tortillas seriously. We believe that once you've tasted a fresh tortilla and discovered just how easy they are to make, your tacos, tostadas, flautas, and enchiladas will never be the same again. 
What Is a Tortilla Warmer? 
Tortilla warmers are not just lovely table accessories, they are tools specially designed to keep tortillas warm and hold in precious moisture in the form of steam that helps keep a tortilla soft and pliable throughout your meal. The crucial step to making fresh corn tortillas that are pliable and pillowy rather than dry and crumbly is giving them a final steam after searing. You can use a clean kitchen towel, a basket, or a tortilla warmer or pouch. 
How Masienda's Tortilla Warmer Pouches Are Made
Our tortilla warmer pouches are handmade with love in Oaxaca. They begin at Khadi Oaxaca, a cooperative textile project made up of over 400 farmers and artisans based in and around San Sebastian Rio Hondo. Khadi grows, spins, weaves, and dyes the organic cotton fabric for our warmers, which are available in a trio of colors. Their farmer artisans steward the land they live on through traditional milpa farming, while spinning and dyeing native Coyuchi cotton with natural dyes harvested from their land. Because many of the participating farmers are subsistence farmers, Khadi offers a way for families to make an income that does not disrupt their way of life. This in turn helps families preserve heirloom corn varietals that have been passed down for generations that would otherwise be lost in time. It all circles back to corn. 
Once Khadi produces the textiles for our tortilla warmer pouches, they go to our seamstress Deisy Martinez in Oaxaca City who sews them together into their final lined, envelope-shaped form. A true labor of love, Masienda's tortilla warmer pouches make a beautiful hostess gift or addition to any table setting. May your tacos never fall apart in your hands again.