Tamales from Masa Harina
Tamales from Masa Harina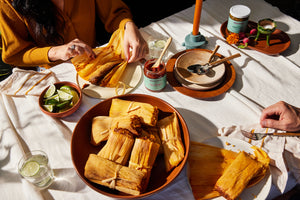 During the holiday season, one of the most frequently asked questions we hear at Masienda is, "can I make tamales with masa harina?"

The answer is yes, absolutely. And they're delicious. Making tamales using masa harina is a good way to make your tamalada (tamal-making party) just a bit easier. Our masa harina is a fine grind, so the texture of your finished tamales will be especially delicate and lovely. If you're looking for a coarser texture, see our tips for playing around with masa texture, below.

Check out our video tutorial, the recipe at the bottom of the post, and read on for more info.
How to Make Tamal Dough or Masa for Tamales
From MASA, the book:
Much like masa for tortillas, masa for tamales is largely differentiated by texture. Tamales almost always involve some combination of masa, fat (usually asiento, or lard), seasoning, and often, though not always, filling. When in doubt as to what ratio to assume, give 2-2-1-1 a try. As our friends at Guelaguetza restaurant in Los Angeles showed us, 2-2-1-1 stands for: 2 cups masa harina to 2 cups of broth (or water) to 1 cup of fat to 1 teaspoon of baking powder, with salt to taste.
Note that while some people use a 2-2-1-1 ratio, you may want to play around to find your desired texture. We often use up to 3 cups of masa harina to the 2 (sometimes 3) cups of broth, 1 cup of fat and teaspoon of baking powder. See recipe below for step-by-step instructions. 
Whip It Good
Be sure to whip your fat (if you're vegetarian, try butter, refined coconut oil or plant-based butter) until it's light and airy, almost like cake frosting, before sprinkling on the baking powder and adding your masa. 
How Will I Know My Tamales Are Done?
After steaming your tamales for about an hour, take one out of the steamer basket and let it cool for a minute or two. Unwrap it carefully. Does the masa separate from the husk? That's a good sign! The masa should also be slightly firm to the touch and not mushy. If the masa is still soft, you may want to cook them longer. Also, remember: the tamales will firm up once they cool down, especially after a day in the refrigerator. 
What Color Masa Should I Use For Tamales?
At Masienda, we offer four colors of Heirloom Corn Masa Harina (white, yellow, blue and red), all of which are suitable for making tamales. White is the most traditional choice, because it is a nice blank canvas for really getting to see the colors of the fillings inside, but there are really no rules here. We like to select a masa color that will make the choice of filling pop (red chile chicken against yellow masa, or green poblano peppers and white cheese against red masa), or flavors that pair nicely (the earthiness of blue masa with sauteed mushrooms, drizzled with some crema for contrast).
Change the Texture of Your Masa for Tamales
To mimic the coarser textured masa typically used in fresh-ground tamal masa, our Hospitality Manager Rachel has tested a home-cook DIY hack. Her method uses mostly masa harina with a bit of nixtamalized corn ground in a food processor for some added texture (about 10 parts masa harina to 2 parts nixtamalized corn). For the recipe below, she suggests lowering the quantity of masa harina from 9 cups to 7.5, and then cooking 1 cup of whole kernel corn with a pinch of cal. After nixtamalizing the corn, grind it in your food processor and blend that coarse masa with the masa harina to incorporate before adding the masa mixture to your whipped lard. Follow the rest of the instructions as written.


How to Make Sweet Tamales
Want to make tamales for dessert? Feel free to sub the lard for coconut oil, butter, or your favorite fat, and mix any fruit or flavoring directly into the dough. We especially love this
Breadtopia Fig Tamal
recipe using our
Heirloom Red Corn Masa Harina
.