These Tinned Fish Sopes Come Together in Minutes
These Tinned Fish Sopes Come Together in Minutes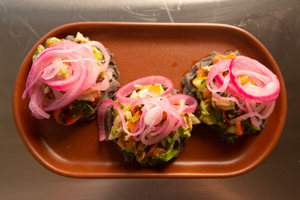 Sopes are thick masa pancakes, often with a raised ridge for retaining toppings. They can be fried or cooked on the comal. Sopes are also known as pellizcadas, picaditas, and garnachas (Yucatán and Guatemala). Any size sope goes, really, but they're often 3 to 4 inches across and enjoyed as an antojito ("little whim") or appetizer. In the Yucatán, the sopes (garnachas) may have a higher ridge, more closely resembling small cups.

We love this weeknight-friendly sope recipe from chef Marisol Corona of ATLA in New York City because it requires hardly any cook time and is mostly about the assembly. Chef Marisol suggests making it with smoked trout, but says you can also use high-quality canned tuna or your tinned fish of choice (or even cold roast chicken).
Born in Guanajuato, Chef Marisol Corona migrated at a young age with her family to Elgin, just outside of Chicago. After interning for The Alinea Group, where she spent two years as part of The Aviary team, she reconnected to her Mexican culinary roots when she joined the ATLA team in 2018, where she now runs the kitchen. In her cooking, Marisol seeks to transmit nostalgic flavors deeply rooted in her memory, celebrating Mexican cooking and the local ingredients she has access to in New York City.