A Corn Lover's Guide to Mexico City
A Corn Lover's Guide to Mexico City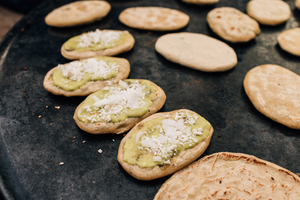 By Allegra Ben-Amotz, former CMDX ex-pat and Masienda Brand Coordinator
Header photo by Monica Godefroy
If you're a corn devotee, Mexico City is like Willy Wonka's factory. This is the city of masa, in all its glory and its many colors and shapes. On the street or in a restaurant, your fix of Vitamina T (tacos, tamales, tlayudas, tetelas, tortas and more) is always close at hand.
For the last fifty+ years, many Mexico City residents were resigned to purchasing uniformly white, bland tortillas short on flavor and texture (thanks to inexpensive masa harina made from imported commodity corn), that barely resembled the staple made from the more than 60 strains of native corn in varying colors and shapes found in rural areas (thanks, NAFTA).
But luckily, over the past few years, a number of Mexico City-based chefs and tortilleria owners are fighting to preserve the country's cherished crop and the livelihood of small farmers across Mexico. The delicious result? Mexico City residents and visitors alike can enjoy a myriad of dishes that begin with fresh, native corn nixtamalized in the traditional way.
Some of us at Masienda have had the pleasure of living in the vibrant capital city—some still do—while others make a point to travel there as often as possible, and when we go, corn is always at the crux of our itineraries. This is a list of our favorite places to enjoy the versatility and variety of Mexico's native corn in all its glory and myriad forms.
A note on responsible tourism:
The pandemic-driven remote worker boom and digital nomad culture has resulted in an exponential increase in tourism to the capital. Locals and longtime residents have mixed feelings about this change, as they experience rent inflation and evictions. To visit responsibly, we recommend doing a bit of homework: aim to learn some basic Spanish rather than assuming waiters, baristas and Uber drivers will understand English. Respect and educate yourself on the local customs: shorts are considered inappropriate, no matter the weather; arriving early or even on time for an engagement is unusual and might be construed as rude; and respect masking customs. The Good Guest Collective, an organization consisting of expats and locals, was formed in response to overtourism, with the goal of informing guests of norms so they can be mindful, ethical visitors.
Restaurants