The World's Best Tortilla Press
The World's Best Tortilla Press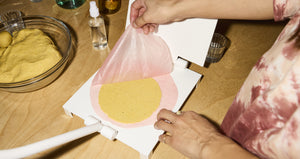 Deep in the labyrinthine heart of Oaxaca's Central de Abastos, Doña Rosa has been selling quality-made tortilla presses to locals for longer than she can recall. Unlike other presses you may have encountered on display in a restaurant or for sale at an artisan market or shop, a Doña Rosa press is a veritable machine. Made of rolled steel and clocking in at nearly 11 lbs., it's a sturdy, yet wonderfully simple tool made to flatten hundreds of tortillas, daily.
From the first time we worked with this style of press, we have consistently marveled at how this seemingly straightforward device could have such an outsized impact on a finished tortilla. Unavailable in the US, its substantial heft and tight calibration make a range of tortilla thicknesses possible. This capability alone is a crucial distinction from every other commercially-available press, whose performance in this area falls disappointingly short.
Over the years, friends, family, customers and curious tortilla-lovers alike started taking notice of this 'best tortilla press machine' that magically transformed our masa into reliably perfect fresh tortillas. (Spoiler: it's not magic, just handmade craftsmanship.) The requests were sparse at first, but soon we were fielding special requests at such a frequency that it only made sense to purchase more than just our suitcases could carry.
Entertained by our efforts, Doña Rosa eventually agreed to make a limited number of presses just for Masienda. For extra style and food safety, we commissioned the presses uncoated (just the natural steel, no paint) and imported them to Los Angeles, where we had them professionally powder coated with food-safe paint.
Years in the making, the Doña Rosa x Masienda tortilladora (tortilla press) is not only a functional tool, but some say a work of art. Hundreds of tortillerxs are proud to leave this beauty on their counters – useful and elegant.
The Backstory
We first met Doña Rosa in 2014, and, after realizing how superior her tortilla presses were, we started racking up hundreds of dollars in baggage fees shoving as many of these presses in our checked bags as possible. Trust us when we tell you that this isn't your run-of-the mill tortilla press. Doña Rosa's specific design has become the most important tool in our kitchen.
The Central de Abastos in Oaxaca is a maze of smells, sights and sounds. We can find Doña Rosa very easily now, but it took multiple visits (and a lot of winding through the market with wrong turns and dead ends, not to mention snacks) before we could easily find our way back to this mecca of the best tortilla presses we've ever encountered. Basically, you head down the long hall from the main market parking lot (just across from the taxi stand), take a left at the chocolate molinos that dot the hall, then a left at the suitcases, a right at the bird cages, a left at the basket of fresh tlayudas, and then THERE. SHE. IS.
It took getting to know Doña Rosa and making sure she knew who was requesting her creations before she was willing to entertain a longer conversation (and larger purchase). No bother, we appreciate the opportunity to build trust with our partners, and in fact it's a critical part of our process too, so we valued her approach.
Our COO, Danielle Dahlin, was frequently the one to visit Doña Rosa in the markets, so she built a natural rapport with this skilled (and slightly skeptical) proprietress who was selling the best tortilla press in town. After traveling from the United States and visiting on a few different occasions, Doña Rosa finally shared her phone number with Danielle and welcomed the idea of expanding the relationship.
When Danielle called to coordinate this significantly larger request (so exciting all around!), she was not met with Doña Rosa's voice, but instead that of a younger man who insisted she had the wrong number. Confused but undeterred, Danielle tried the following day. Same response and same confusion. On the third day of phone attempts, Danielle insisted, "It's me! Danielle! Rosa knows me!" – because what was there to lose?
Then magically, the phone was passed to Doña Rosa. And so began our valued tortilla press partnership.
How does the saying go? Your taco is only as good as your tortilla? Or maybe, your tortilla is only as good as your press?
This is the device with many names, none of them wrong. Some people may refer to these as a "corn tortilla press," "tortilla maker," "prensa para tortillas," or "tortilladora." Just as it can be called many things, it can also serve multiple purposes.
We use ours to press fresh tortillas (4-inch! 6-inch! 13-inch tlayuda anyone?), to prepare a masa round for tetelas, to press and finish a tlacoyo, and even to press out huaraches on occasion.
We have tried almost every tortilla press, tortilla maker, tortilladora and this rolled steel press is just simply the best press we have used.
To demystify your journey to the best tortilla press even more, we've detailed a few of the commonly asked questions below.
What actually makes the best tortilla press, the best?
We've narrowed the criteria to these key areas:
1. Ease of pressing
2. Tension
3. Durability
4. Flexibility
5. Sufficient surface area
You can find plenty of tortilla presses, sometimes referred to as tortilla makers, on the market: many are made from cast iron, just as many are made from aluminum, and some are beautifully crafted from wood.
Your tortilla press should be the Goldilocks of all qualities mentioned above. Many tortilla presses require too much muscle and can never get the tortillas thin enough. When using a tortilla press that is smaller in size and lacks adequate pressing surface area, masa will likely squeeze out the sides and leave you with tortillas that's difficult to cook evenly.
Can you use the Doña Rosa x Masienda tortilla press and tlayuda press for flour tortillas?
Absolutely! It's an equal opportunity pressing machine! In all seriousness, this tortilla press performs with similar, impressive consistency when using both corn and flour masa for corn tortillas and flour tortillas.
How do you use a tortilla press?
A good tortilla press works by not just smushing the dough, but by gently pressing it against the metal plates so it fills out into a (sometimes, charmingly) round circle. You'll see – using a tortilla press is easy.
Cut two 8"- 9" circular sheets from a thin, plastic grocery bag or gallon-sized food/bread storage bag (without zip seal). We have found that parchment paper and Ziploc-type bags are too heavy of a material and do not easily peel off from fresh masa, once pressed.
Open the tortilla press. Lay one of the plastic sheets squarely on the surface of the press.
Break off approximately 32 grams* of fresh masa (or whichever size you prefer). Roll the masa into a ball. Place the masa ball in the center of the plastic sheet that you have just laid out.
Place the second plastic sheet on top of the masa ball. With the top half of your fingers, slightly flatten the masa until it begins to adhere to the plastic sheet (this is to prevent the masa from shifting around when you close the press).
Close the tortilla press lid and apply pressure to the lid by pushing down on the lever. Open the tortilla press lid and flip the now-flattened masa on its other side (do not peel the masa from the plastic sheets, quite yet). Close the lid and press again.
Remove the flattened masa/uncooked tortilla. Carefully peel away one plastic sheet at a time. It helps to hold the tortilla face up (flat in your hand) and first carefully peel off the top layer of plastic; then, flip the uncooked tortilla over (masa should now be directly touching your open-faced hand) and peel off the second plastic sheet.
Place the uncooked tortilla directly on a nonstick, high-heat surface (no oil required). Sear the first side for 20-30 seconds. Flip and sear on the second side for another 20-30 seconds. Finally, flip the tortilla to its original seared side and wait for the tortilla to puff, or soufflé.
Applying a bit of pressure to the outer half of the tortilla with your index finger can help coax along the puffing process (your goal is to trap steam within the tortilla so that it expands outward, creating a ballooning effect.)
*Chef's note: A 32-gram masa ball will yield about a 28-gram (1 oz.) cooked 6" tortilla.
What else, you ask, can a tortilla press be used for?
Pressing out naan, pita and other flatbreads. Pressing out dumpling wraps. Pressing paper thin burger patties for smashburgers. Pressing flowers for homemade paper (you hadn't thought about that, had you?). Stylish kitchen book stand, when not in use, of course.
Is a tortilla press worth it?
We absolutely think the high quality Doña Rosa x Masienda tortilladora (tortilla press) is. Is it 100% necessary? Of course not! You could layer masa between two very heavy books, use a rolling pin, flatten them out the traditional way, the list goes on. But we have a hunch that the experience of using a Doña Rosa tortilla press to make your own fresh homemade tortillas, will shift your thoughts on this significantly.
What about the other options out there?
While some presses are beautiful works of craftsmanship and others are touted as authentic imports directly from Mexico, it's important to remember that from our experience, the substantial heft and dependable precision of our sleek rolled steel option is unmatched. Tortilla presses can be expensive, so we want to advise you on the best purchase from the outset! Take a look at our bullet point criteria above if you'd like to research the 'how' and 'what' of other presses before you commit to Masienda x Doña Rosa.
Have other home cooks found the Doña Rosa x Masienda tortilla press as easy-to-use and helpful as you claim?
It's an excellent question and we appreciate your quest for the truth. We have found that our press is easy to use and easy to clean when making fresh tortillas at home. We are very proud to share actual customer feedback that we've received from people who have purchased the press for themselves, and feel the same way. Many of our customers ditch the cast iron tortilla press for our Doña Rosa x Masienda tortilla press, and hearing about their experiences are what inspires the Masienda Team.
Here are some of our favorite reviews:
Life changing
This Doña Rosa press really changed the tortilla game for me. You may think it's a bit much for a press but this has such durability and longevity that doesn't compare to any other press I've handled or that you will handle. The weight allows you to gauge the thickness you desire and to press one time without the added labor as you do with its wooden or aluminum counterparts. If you press as much as I do those others tend to lose their effectiveness after the first hundred presses. I've made now thousands of tortillas with this press and the quality has yet to waiver. They say you have to grow a relationship with your press and this one has my heart. If Michelin had a guide for kitchen tools this would have ???????????? no question.

– Nubian

Display this one!
I'm proudly displaying my new press in my kitchen because it's worth it. No hiding it away in a pantry. I love the sturdy design as much as the sleek white colour. I like my torts on the thin side so I take about 3 turns & press out perfection. I usually make a dozen at a time to keep it freshly!!

– Dee

This Will Be The Last Tortilla Press That You Buy!
I have owned several tortilla presses over the last 30 years. The problem is always with the distribution of the downward force and the resulting inconsistency of shape and thickness. This press eliminates those issues completely. The strength of the steel and the precision of the movement assure longevity and accuracy. The enamel coating seems strong, but as with any enameled kitchenware, I would recommend handling and storing the press carefully to avoid chipping. Seventy five bucks is a very good value for this level of quality. If you can swing it, this press is worth it. If you can't, save a few bucks a week and buy it when you can!

– Scotty

Next Level
I don't know why I was surprised as all of Masienda's products are top notch, but my cast aluminum had been repaired and jury-rigged to death. It was time for a new press… the Doña Rosa is the best! Solid and heavy duty – built to last. It makes the most perfect and most uniform thick tortillas! I also use it for tetelas and corn dough empanadas. No regrets about a tool that will last the rest of my life and still have life enough to hand down to my children like a valuable family heirloom.

– Jeff
Shop our Doña Rosa x Masienda tortilla press, a.k.a. the best tortilla press, and see why our customers love it so much!