Sal de Gusano is Mother Nature's Pairing: Salt, Worms and Agave
Sal de Gusano is Mother Nature's Pairing: Salt, Worms and Agave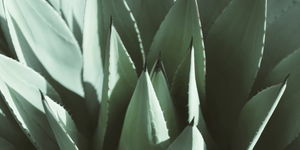 by Andrea Aliseda
Visit Mexico and order a pour of mezcal, and very often you'll find the drink is accompanied by two things: slices of orange and a little mound of sal de gusano, or Worm Salt. Worm salt is earthy and savory, and in combination with the citrus, creates a pairing that cuts right through the smoke, bringing forward the fruity and herbaceous characteristics of mezcal as you drink it slowly, in little 'kisses', as some mezcal aficionados call the tiny sips that can leave your lips puckered. Beyond pairing with agave spirits, sal de gusano is also commonly used to season guacamole, salsas, cut fruit, eggs, ceviche, and more.

What is Worm Salt?
The connection between agave and worm is not by accident — it's Mother Nature's divine pairing. The worm has long been paired with mezcal: it's the infamous insect swimming at the bottom of mezcal and tequila bottles once used to illustrate the drink's "purity." (Today's mezcal makers mostly opt out of this old-fashioned marketing tactic.) These are typically the white maguey worms, known as meocuiles, which are caterpillars which would later turn into butterflies were they not suspended in alcohol. Red maguey worms are most typical in sal de gusano and are known as chilocuiles, chinicuiles, or tecoles, which are larvae deriving from the moth hypopta agavis. Both red and white worms infest the core and roots of the maguey plant during rainy seasons in clusters, sometimes only leaving behind a hollow agave husk. So, harvesting the worms for consumption can in fact be beneficial to the plant.    
Chinicuiles, Oaxacan in origin, are red and pink, typically around three centimeters long with very narrow bodies. Their flavor is earthy, herbaceous, and packed with umami. To prepare them for use in worm salt, they are left out to dry under the sun, or toasted in an oven, then ground up with salt and dried chiles (there's typically a 3:1 ratio for larvae and chiles) and left out for one last sun bath that lasts from two to three weeks.  
Meocuiles, the white maguey worms, are a delicacy that impart a chicharron-like flavor when fried or toasted, and are consumed in many regions of Mexico nestled in a corn tortilla with a dab of guacamole. They also appear in tacos, sopes, and as a botana (snack). Atlas Obscura says they have a nutty taste, and writes that chefs use them to flavor mole, texturize rice soup, and give a burst of savory flavor to tacos served with guacamole. 

A Deeply Rooted Tradition
Sal de gusano is certainly not new, and like many of the beautiful staples of Mexican cuisine, it has Indigenous origins. The Aztecs and Mayans reveled in insects like fried grasshoppers, Chicatana Ants, and agave worms, foods that we now know are both rich in protein and incredibly sustainable, cost-effective alternatives to animal meats. 
Like ants and grasshoppers, maguey worms have a hold, and an important place, in Mexican cuisine. And more than a food to be enjoyed, maguey worms were also thought by Mexicas (Nahuatl-speaking Indigenous people who ruled the Aztec empire) to have healing properties. Wide Open Eats says the Mexicas thought mezcal worms had powerful healing properties, providing strength to those who consumed them. In fact, they were so revered medicinally and gastronomically that they were synonymous to high society in Aztec culture. Today, they are still hailed as a rich source of nutrition, aside from their abundance in protein. They are also known to be rich in vitamins B and B2 (which greatly benefit the central nervous system) and calcium. They can strengthen the body's immune system and help the cardiovascular system with magnesium and potassium, as well as aid in digestion.  
Unfortunately, Spanish colonizers deemed these nutritious insects as undesirable food, and it is only in recent years that Mexican cooks and eaters, perhaps with the boom of Oaxaca food tourism, are reclaiming this potent source of nutrition and flavor. The insect resurgence is hitting the United States too, where products like packaged chocolate-covered grasshoppers are becoming more widely available, and it's becoming increasingly common to serve mezcal with sal de gusano — the way it was meant to. 
How to Enjoy Masienda + Jacobsen Salt Co. San Pablo Worm Salt
In honor of this beautiful culinary tradition, Masienda has paired up with Jacobsen Salt Co., the first to harvest salt from the Pacific Northwest since the 1800s, to bring forth a luscious sal de gusano experience. Our San Pablo worms are hand-harvested in the Central Valley of Oaxaca, where petrified waterfalls and crowning agave plants are part of the landscape. They're toasted on the comal for a touch of smoke before being lightly salted. And for a hint of heat, the salt is infused with dried Pasilla Mixe chiles — a Oaxcan delicacy. 


 With Food: 
Have fun using your San Pablo Worm Salt in any context you might use a chile salt: to liven up a soup, to add a touch of intriguing heat to guacamole, to add earthiness to a ceviche or sautéed mushrooms.   

With Mezcal: 

Your mezcal should be at room temperature. Pour your desired quantity into a jícara, copita, vaso veladora, or a wide-mouth shot glass that will allow the mezcal to open up and for you to savor its aromas. 

Cut an orange in thin slices (not those big wedges preferred by soccer moms) or head to your farmer's market for ripe local fruit. 

Pour your San Pablo Worm Salt into a little mound on a plate next to your orange slides, or dip the half-wheels of fruit into the salt. 

Enjoy your mezcal in small sips, alternating between bites of fruit, 

and watch as different flavors bloom varied characteristics in your mezcal — bridging together a cross-continental experience with salt from the American waters of Netarts Bay to chinicuiles and chiles from Mexico's deep south. 
Agave photo by alexphotos.