Add Some Pow to your Pizza (& Everything Else) with Salsa Macha
Add Some Pow to your Pizza (& Everything Else) with Salsa Macha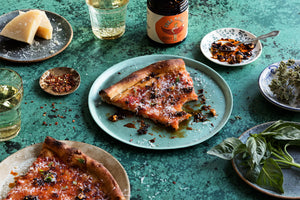 Photograph by Dylan + Jeni. 

Meet the everything condiment. If you haven't yet been initiated into the fan club of this crunchy, spicy chile oil, get ready to be amazed by its versatility. The New York Times called salsa macha the MVP of condiments back in 2020, but this deeply flavorful cousin of chili crisp that originated in Veracruz, Mexico, has been a staple of the Mexican pantry (and the taqueria condiment caddy) for generations. What are you waiting for?
Photo by Graydon Herriott. 
What is Salsa Macha?
Literally translated as "brave salsa" (a reference to the spice level of some, not all, recipes), salsa macha is a delicious chile oil traditionally prepared with some combination of chile peppers (e.g., chile morita, chile de arbol, chile guajillo), nuts and/or seeds, spices and dried fruits. The bright vermillion oil, spicy and flavorful on its own ties the other ingredients together and floats to the top, leaving a potpourri of spices at the bottom to be stirred in. Did we mention that it's shelf-stable and doesn't require refrigeration?

As with many other sauces, salsa macha has been adapted by different cultures: from the traditional salsas machas across Mexico, to the chili oils of China and Southeast Asia, to "XO" sauce in Hong Kong and rāyu in Japan, oil-based condiments can be traced to cultures from all over the world.


Photo by Graydon Herriott. 
What is the History of Salsa Macha?
Salsa macha's roots can be traced back to Orizaba (a city in Veracruz), where the indigenous Totonac people grind dried chiles, sesame seeds and salt, for a spicy, oil-free paste, but versions of salsa macha can be found all over Mexico. In Oaxaca, chapulines (toasted grasshoppers) are often added for crunch. In Colima, according to Cooks Without Borders, the condiment is known as salsa de chile de arból, for the tiny red chile that lends the sauce a super-spicy kick, and is usually served with the region's white pozole (Mexican hominy stew).

Texas Monthly writer José Ralat posits that salsa macha's similarities to Asian chili oil might not be purely coincidental:
For centuries after Mesoamerica's conquest, Veracruz, founded by Spanish conquistador Hernán Cortés in 1519, was a major port of trade welcoming commodities from the East. No one knows for sure, but it's possible both Asian chile oil and salsa macha were products of innovation spurred by cross-continental trade. A similar culinary cross-pollination took place in Acapulco, three hundred miles southwest of Orizaba, where Spanish ships brought Japanese influences that still echo in Mexican cuisine today.
There are many more variations on salsa macha than there are regions in Mexico. The late, great Diana Kennedy's version, featured in My Mexico, skips the nuts and adds an entire cup of beer. The chile oil is really a blank canvas for creativity.
What Are Some Different Uses for Salsa Macha? 
Looking to add spice, flavor and texture to your meal? Pura Macha's myriad variations improve everything from tacos to fried eggs to roasted vegetables to grain bowls. We even like it whisked into a simple salad dressing, or as a dipping sauce for dumplings. It can even be a topping for ice cream if you like heat with your sweet. And it bears repeating: Pizza. Pizza is salsa macha's Italian BFF. 

Shop Masienda Pura Macha Salsa Macha.


Meet Masienda's Pura Macha Line
While traditional salsa macha is a true delicacy, it's also a formula ripe for riffing on … which is what we did. Created by Masienda team members Danielle and Jorge, Pura Macha is our own playful nod to the traditional salsas machas of Mexico. We spoon Pura Macha onto masa dishes like tacos, quesadillas and tamales, as well as pizza, salad, roasted vegetables, noodles, beans, rice, pasta, yogurt, bread and butter … the possibilities are endless. We currently offer four delicious variations:
Guajillo + Cherry + Cacao Nib is our sweetest, newest and chewiest salsa yet, with a mild-medium heat level. It brings the tang of dried Montgomery cherries and pleasantly sharp, savory taste of real cacao to balance the warmth of chipotle and guajillo chiles. The cacao nibs are a non-allergenic alternative to the classic peanuts that lend each spoonful the ultimate crunch factor. Don't let the cacao fool you — this is not a chocolatey salsa macha, per se (think the smoky depth of the best mole). This Pura Macha calls for dairy: level up the boring wheel of Brie on your cheese board, drizzle it over ricotta, or swirl it through vanilla ice cream for some serious wow factor—hello, Cherry Garcia's spicy sister! We also like it atop a breakfast taco, spooned over salmon, or used as a marinade. (Ingredients: Grapeseed Oil, Chile Guajillo, Chile Chipotle, Cacao Nibs, Dried Cherry, Sugar, Sunflower Oil, Brown Sugar, Sea Salt)
Chipotle + Coffee + Peanut is affectionately known as The Red Eye around Masienda HQ. A fiery blend of chipotle, morita and pasilla chiles join a cup of coffee with some peanuts. By far the spiciest of the three, we spoon this on all meats (and, we mean ALL), roasted yams, carrots, and portobello mushrooms. The coffee plays nicely on breakfast tacos, but don't worry – it's decaf! This one was inspired by classic coffee rubs and has that sweet heat vibe. (Ingredients: Grapeseed Oil, Chile Chipotle, Chile Morita, Chile Pasilla, Roasted Peanut, Ground Coffee, Pimenton, Brown Sugar, Sea Salt. Contains: peanuts)



Guajillo + Cranberry + Hazelnut balances a mellow warmth with a refreshing dose of sweet and savory elements. This is the gateway combo of the Pura Macha lineup, the salsa that primes you for deeper macha explorations to come. Spoon over roasted vegetables, pizza, salads, quesadillas, tamales…this goes great on it all. Of the three varieties we've created, this is your classic all-purpose allstar. It has the widest range and truly enhances anything. (Ingredients: Grapeseed Oil, Chile Guajillo, Chile Pasilla, Roasted Hazelnut, Dried Cranberry, Black Garlic, Apple Cider Vinegar, Chile de Arbol, Sea Salt. Contains: hazelnuts)

Arbol + Nori + Sesame is an homage to the umami-rich flavors of furikake (minus the MSG). The chile de arbol says "hello, I'm here!" and the Sichuan peppercorn says "hello, I'm staying!" while the nori and sesame play together in the background, subtly seducing the umami out of vegetables and making quite the impact. We spoon this one on all seafood (think roasted shrimp, pescado a la talla…), roasted oyster mushrooms, eggs, rice, noodles, vegetable crudite and salads. (Ingredients: Grapeseed Oil, Chile de Arbol, Chile Guajillo, Black Garlic, Nori, Sesame, Cumin, Sea Salt, Sichuan Peppercorn)


Photo by Dylan + Jeni. 


What People Are Saying About Pura Macha
"Intriguing ... They're crunchy, ruddy with oil and chiles, and offer some sweetness to play off the heat." -Florence Fabricant, The New York Times

"Pantry goals … the Pura Salsa Macha line is a collection of three fun twists on the spicy topping." -Thrillist

"When it comes to salsa macha, tradition be damned. Pura Macha offers three 'playful nods' inspired by the Mexican original." -Epicurious