It's a Tostada Party!
It's a Tostada Party!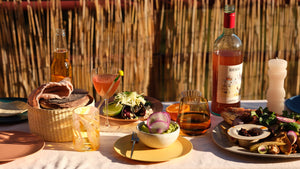 Tostadas might be the most versatile of foods (they're up there with, well, toast). Beyond making a perfect canvas for almost any topping, they're excellent because they hide the imperfections in a tortilla (no puff? make it a tostada!), and keep well at room temperature. Tostadas fried in oil will last up to a week in an airtight container, while tostadas baked in the oven or toasted on the comal (our preferred method) can last weeks at a time. If, after a week, they seem a little stale, try heating them up to get their crisp back.
Photo credit Graydon Herriott
The easiest dinner party you've ever thrown is a DIY tostada party. Prep a ton of tostadas and set out spreads (refried beans, asiento, mayo swirled with Pura Macha, crema), toppings (we're partial to tinned fish, conservas, and ceviche, but any protein or veggies can work), and garnishes (herbs, cheese, salsas, shredded cabbage, thinly sliced onions, pickled jalapeños, lime ... you can't really go wrong). It's a make-your-own-adventure vibe.


Photo credit Albert Lu
Check out some of Jorge's favorite ways to serve tostadas in this video:


One of our go-to's is a Smoked Salmon Tostada, using Fishwife's excellent tinned Atlantic salmon.