Masienda Presents: Helen & Dayanara Villafranca of Suerte
Masienda Presents: Helen & Dayanara Villafranca of Suerte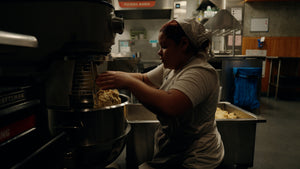 To eat a good tortilla is to experience the sublime. If that seems like hyperbole to you, rest assured that from our vantage point, it isn't. If we didn't feel so strongly, we wouldn't be in this business.
And part of the wonder of the tortilla is that it's made with just three ingredients: maíz, cal (or calcium hydroxide also known as lime) and water. With so few ingredients, it means that the margin for error can seem greater as it is coaxed to life through a 24-hour-long process that involves boiling, soaking, milling, kneading, shaping, pressing, cooking and serving. A truly excellent tortilla requires a watchful eye and a sensitive hand at every step along the way, not to mention stamina to endure the sheer physicality of the work.


At Suerte, a Mexican-inspired restaurant in Austin, Texas, it's sisters Helen and Dayanara Villafranca from the island of Roatán, Honduras, who are responsible for the daily production of several hundred freshly made tortillas. Early (very early) each morning, Helen walks to work in order to grind freshly nixtamalized corn into masa, and every evening, she passes the baton to Dayanara who presses and cooks that masa into hundreds of tortillas for service and also begins cooking the corn so it will be ready the next morning for her sister to begin all over again.
The preparation of tortillas in México is often a form of ancestral knowledge, passed down from mothers and grandmothers to their children. But for Helen and Dayanara, that wasn't the case. Before working at Suerte, they had never made tortillas from nixtamalized corn. Their native Roatán is a Caribbean island without its own corn production, so they only knew tortillas made from masa harina (unlucky for them, it wasn't ours). And it took them a while to get the hang of it.

Dayanara confesses that when she was left to do the tortillas on her own without the help of the colleague who trained her, she said to herself, "No, yo no puedo. Esto de las tortillas no es para mí." (I can't do it. This tortillas thing is not for me.) But with some encouragement from Executive Chef Fermín Núñez, she stuck with it. Helen also had her own learning curve but has fallen in love with the work: "Es un trabajo muy, muy bonito. Es muy bonito conocer muchas texturas de masa, aprender otras culturas, conocer el trabajo que estás haciendo y las raíces de dónde viene ese trabajo." (It's really beautiful work. It's so nice to learn so many different textures of masa, to learn from other cultures, to get to know the roots of the work that you are doing.) She adds, "Me siento como en casa, la verdad. Me siento amada." (I feel at home here, really. I feel loved.)
"I think one of the beautiful things about Mexican cooking is that, to me, it always tastes like somebody made it," says Fermín. "To have masa taste the best, it has to come from two hands of a human, not a machine... And you can taste it. And that's the soul, to me, of Mexican cooking. And that is also the soul of what we do here."
If you have the chance to try the ever-popular suadero taco on Suerte's menu (and we hope you do), you will likely finish it in no more than two or three bites. Like most tacos, it's a fleeting, ephemeral pleasure, gone in a few seconds. But after you wash it down with a sip or two of chela, know that the memory that lingers and lives on was brought to you by a full day and full night's work courtesy of Helen and Dayanara Villafranca.
Suerte is located at 1800 E 6th St in Austin, Texas.
Masienda Presents is our new series of short films about people, place and masa. Subscribe to our YouTube Channel to be the first to know about new episodes.