Rick Martínez's Favorite Recipe in 'Mi Cocina' is Pollo Al Pastor
Rick Martínez's Favorite Recipe in 'Mi Cocina' is Pollo Al Pastor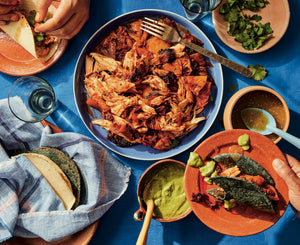 We loved him in the Test Kitchen. We eagerly follow his adventures with Choco in Mazatlán. 'Borderline Salty' is our go-to commute listening. We are big Rick Martínez fans is what we're trying to say. (And it turns out the affection is mutual!) And we're honored that he shared a recipe with us from his new, beautiful, must-cook-from-it-tonight book, Mi Cocina: Recipes and Rapture from My Kitchen in Mexico, which is the star of our Mi Cocina Bundle alongside a 'Sassy Pink' Doña Rosa Tortilla Press and a bag of our Heirloom White Corn Masa Harina. Read on for Rick's favorite recipe from the book. Provecho!

By Rick Martínez

I was walking the streets in the city of Guanajuato and saw a rosticería that was selling rotisserie pollo al pastor. Al pastor is the meat filling of one of the most iconic tacos in the country. It's made by marinating thin cuts of pork steak in chiles, spices, and Recado Rojo and layering the steaks on a vertical spit called a trompo, which was actually brought to México by Lebanese immigrants in the late nineteenth century.
The trompos are topped with onion and pineapple and spin around a propane fire; the pork chars and caramelizes as it spins. At this rosticería, the vendor was using chicken instead of pork and had marinated the chicken in his version of an al pastor marinade. It was an incredible sight, hundreds of spinning brick-red chickens roasting over a live wood fire. I stood there mesmerized by the sight and the smell.

I knew I had to re-create this rotisserie-style al pastor for the book, and it has since become my favorite recipe. It is so good and has a totally unexpected flavor, being at once familiar because of the pastor marinade, but surprising because it's married to a perfectly roasted and juicy chicken with chile-stained meat that just falls off the bone.
Reprinted with permission from Mi Cocina: Recipes and Rapture from My Kitchen in Mexico by Rick Martinez copyright © 2022. Photographs copyright © 2022 by Ren Fuller. Published by Clarkson Potter/Publishers, an imprint of Penguin Random House.