How to Make Pupusas Sazonadas with Loisa
How to Make Pupusas Sazonadas with Loisa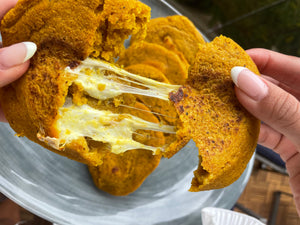 To celebrate the launch of MASA: Techniques, Recipes, and Reflections on a Timeless Staple, our friends at Loisa (who make delicious, organic seasoning blends, spices, cooking sauces, and thoughtfully designed tools for the Latin kitchen) developed this recipe with their in-house chef, Yadira Garcia of Happy Healthy Latina. Their take on the  pupusa, which Jorge writes about at length in the book (check out page 189!) uses our White Heirloom Corn Masa Harina and Loisa's Sazón and Adobo to form a colorful, flavorful masa. You can experiment with different fillings like sweet plantain, chicharrones, or hot sauce, but this version utilizes the classic combination of refried beans and queso blanco.

From MASA:
"Translated from Pipil language as 'swollen,' pupusas are a lot like gorditas in some respects, but they are so iconic, they deserved their own shape. They're most often filled with some combination of refried beans and shredded, low-moisture melting cheese (a mozzarella could work, for example) and topped with a lightly fermented relish (curtido) and salsa.

A lesser-known masa shape from Puebla called pintos, and bocoles (sometimes called bocoles pintos) from Hidalgo, are prepared in much the same way as pupusas, but use whole cooked beans mixed directly into the masa."