Tony Ortiz's Shrimp Chimichurri = A Perfect Summer Meal
Tony Ortiz's Shrimp Chimichurri = A Perfect Summer Meal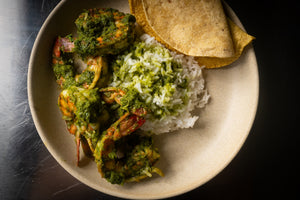 Our volcanic rock Molcajete is key to the best salsas and guacamole, but we love discovering alternative uses for this ancient tool. It simply and effectively pounds and marries garlic, herbs, nuts, aromatics, and spices; we've used it for salad dressing, pesto, flavored salt, and now, chimichurri. The Molcajete extracts the natural oils and flavors of a bounty of summer herbs, which form the base of this sauce by our friend Tony Ortiz (as pictured in this video).



Tony calls this shrimp chimichurri dish, loosely inspired by camarones a la diabla, "a labor of love well worth the effort." He says "the result is a spicy and garlicky herb sauce with tart lemon juice and a lingering heat. The sauce is perfect to marinate jumbo shrimp or any other protein with. My favorite way of using this sauce is to saute shrimp with it."

He suggests serving it over basmati rice with corn tortillas for a perfect summer meal.