Masienda Presents: Poncho Martínez of Poncho's Tlayudas 
Masienda Presents: Poncho Martínez of Poncho's Tlayudas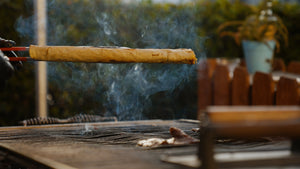 There are some foods from home that, despite our best attempts, we just can't seem to perfectly recreate when we're away. It may be that just one ingredient is off. Some New Yorkers, for example, attest that it's the city's soft water, rich in calcium and magnesium, that creates superior flavor and texture when it comes to those famous bagels. For many Mexicans living in the United States, it can be hard to find ingredients linked to their places of origin within the conventional grocery stores and markets found stateside. In other words, the pepitas from Trader Joe's sometimes just aren't quite the same as the ones from the countryside of Guerrero. If you're looking for something like hojas de mixiote, well, forget about it. 
 
But there's a quiet, informal system operating in the background that helps "humanize a dehumanized food system," as Alyshia Gálvez, professor at Lehman College, writes in Gastronomica Food Journal. It's called paquetería, which roughly translates to 'delivery service.' It's like FedEx, but arguably better, and it helps connect travelers and migrants with the people, products, and foodways of their hometowns on the other side of the border.     
In our final episode of this season of Masienda Presents, we shine the spotlight on Alfonso Martínez of Poncho's Tlayudas, the highly acclaimed Los Angeles pop-up serving delicious 14-inch wide tlayudas — topped with house-made moronga (blood sausage), chorizo, tasajo, black beans, cheese, and shredded cabbage — to hungry clientele on the city's south side. (There's also a delicious veggie version with nopales and mushrooms.)
 
Poncho uses a paquetería service to help transport hundreds of tlayudas from Oaxaca on a weekly basis. Yes, Poncho owns a tlayuda press and yes, he's a fan of our corn, but nixtamalizing corn, grinding masa, pressing, cooking, and storing hundreds of these tortillas that are the size of bicycle wheels is more than he as a small business owner can handle. The paquetería service he uses helps him retain a connection to his home of Oaxaca's Central Valleys and helps us, his devoted customers of many years, experience the unforgettable flavors of the region without the need to get on an airplane. 
We hope you enjoy our season finale and if you're in the Los Angeles area on Saturday, September 10, we hope you'll come see us at MASAFEST, where we'll be hovering around the tent with the tlayudas, marveling at the spectacle of Poncho at the grill, smiling as he serves these exquisite expressions of his country and his culture.    
Poncho's Tlayudas pops up at  4318 S. Main St., Los Angeles and we advise you to check their Instagram for schedule updates and announcements.