Masienda Presents: Ana Castro of Lengua Madre
Masienda Presents: Ana Castro of Lengua Madre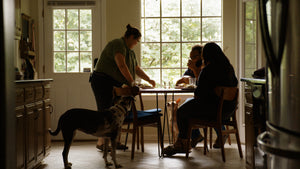 At Lengua Madre in New Orleans, a Mexico-raised, European-trained chef is jettisoning the traditional French brigade system in favor of a new restaurant model that puts people first.
Ana Castro, Food & Wine's Best New Chef of 2022, studied at Le Cordon Bleu and trained in traditional fine dining establishments like The Mark by Jean-Georges and Betony, the now-shuttered Michelin-starred restaurant. But when it came time to open her own restaurant, Lengua Madre in New Orleans (named among Bon Appetit's 50 Best New Restaurants of 2022, and a 2022 semifinalist for James Beard's Best New Restaurant award), she decided to try something different.

"My first job was as a raw bar line cook, you know, garde manger, you move through the stations. And now, at Lengua, I've tried to do the exact opposite. We don't have stations . . . we just have people."

Most modern kitchen teams operate according to French chef Escoffier's kitchen brigade system, also known as the "brigade de cuisine" (what Carmy forces Sydney to implement in "The Bear," against her wishes). Escoffier used his experience in the French army, with its clearly defined duties and structure, into the kitchen, creating a hierarchy of positions (Chef Executif, Chef de Cuisine, Sous Chef, Chef de Partie, and Commis Chef) to ensure each cook has a clear purpose and can work to achieve maximum efficiency. Some version of a brigade system has been the preferred method for decades.

When Ana left New York behind to be closer to family in New Orleans, everything changed. New Orleans felt like home, with the same dysfunctional charm of her native Mexico City. She began to think about creating a restaurant environment that combined the warmth and flavors of her grandmother's kitchen with her vision of an egalitarian workplace.


Masa is always at the forefront of Lengua Madre's five-course tasting menu, which changes seasonally and is inspired by traditional Mexican cuisine, peppered with nods to Louisiana, showcasing local ingredients like Gulf fish and Ponchatoula strawberries. The restaurant's design, with its bright pink palette and modern, clean lines are meant to evoke famed Mexican architect Louis Barragán. It's a personal project, with the changing menu meant to reflect Ana's upbringing, her travels and her love for New Orleans.
And it's personal in its operation: Ana makes an effort to distinguish each member of her staff for their individual, unique value, and treat them as such by offering perks like mental health days. In place of the brigade system that she saw as toxic, she's creating something more person-driven, where each member of the staff is on the same playing field. Line cooks might run food, and servers might help plate dishes. Everyone takes turns at different stations, and no one person's job is more important than anyone else's. The atmosphere at Lengua Madre is one of camaraderie, and Ana invites her team not to take things so seriously. "It's just dinner," she says.

Lengua Madre is located at 1245 Constance St in New Orleans, Louisiana. To learn more about who near you is embracing heirloom corn and the tradition of nixtamalization, check out our Masa Map.