These Fudgy Brownies Have a Surprise Ingredient
These Fudgy Brownies Have a Surprise Ingredient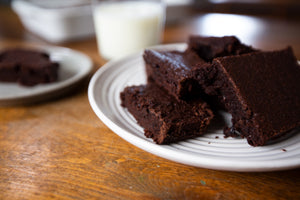 By Allegra Ben-Amotz

Champurrado is a type of sweet atole, a simple, warming masa-based beverage, made with chocolate, sugar, cinnamon (and sometimes other spices). Masienda's own Champurrado mix is coming soon, but in the meantime we've given classic, fudgy cocoa brownies the champurrado treatment by replacing all-purpose flour with gluten-free Heirloom White Corn Masa Harina, which lends some rich corn flavor and a hint of additional sweetness, and adding cinnamon for warming, cozy fall flavor. Using the microwave method, these brownies come together very quickly; make sure to give them time to chill in the freezer or fridge before cutting.

Make them for a group and see if anyone can guess the ingredients that lends them their incredible depth of flavor!