How to Make a 50/50 Corn and Wheat Tortilla
How to Make a 50/50 Corn and Wheat Tortilla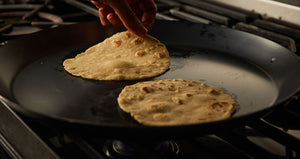 One might assume that we here at Masienda aren't much for flour tortillas.
We are a corn masa company, after all, and we live in a polarized world and even more divided times. Why should the makeup of our tortilla allegiance be any different?
Well, the truth is that we've always had love for both corn and wheat flour tortillas. Sure, for a majority of our taco occasions, there's no doubt that we're a bit biased toward a fresh corn tortilla made from nixtamal. Masaphiles know what we're talking about, here--that impossibly pillowy bite made up of umami-rich, alkaline-cooked corn that is subtle but complex, humble but bold, complimentary and assertive, all at once. You know... the sultan of swat, the colossus of clout, the great(est) bambino...?
OK, Sandlot references aside, corn tortillas are certainly where the heart is. Nevertheless, we consider a flour tortilla to be a thing of beauty, too. What's not to like? It's got fat, stretch, salt, and flakiness. They're delicious, and sometimes you just don't want to make a choice between the two.
Which brings us to the 50/50 tortilla.
As far as history goes, the 50/50 tortilla is more of a modern, commercial development, born out of a need to innovate the otherwise limited retail category of store-bought tortillas. Grocery store retailers are always trying to get brands to come up with new, "fresh" ideas for each and every aisle within the store, which can lead to the best (cold-brew coffee) and worst (Cheetos lip balm--yes it was a thing) of what "innovation" has to offer. And, for a hot second within the tortilla category, the 50/50 corn and wheat tortilla was somewhat of a lighting-in-a-bottle kinda moment.
Like corn? Yes! Like wheat? Yes! We've developed just the product for you!
In addition to a need for category creativity, legend has it that the 50/50 tortilla was developed to solve a problem that some consumers, especially those of the wheat tortilla persuasion, apparently had with store-bought corn tortillas. Corn tortillas, as we know, are not made of gluten, the protein that gives wheat dough its stretch, hold and structure. Instead, corn tortillas rely on the nixtamalization process of corn, where the natural gums within the corn's skin, or pericarp, are activated to create a binding, emulsifying quality that allows the masa that it becomes, once ground, to hold together. That said, unless you know how to properly reheat a store-bought corn tortilla, especially one that does not have any gums or stabilizers in it, these naturally-occurring gums are strongest when fresh and properly hydrated. When left to dry on a grocery shelf, even in a refrigerated environment, chances are that it might fall apart during your taco experience. Our friends in the industry suggest that it was the corn tortilla's reputation for cracking and/or breaking that led some tortillerias to develop a corn tortilla with an extra dose of gluten in it. Cue the 50/50 tortilla.
Given the tension between corn and wheat, it's hard to believe a compromise of this magnitude was even possible. Despite its significant nutritional value once nixtamalized and its sustainable agricultural relationship with beans and squash, corn has a complicated history among wheat purists. In Mexico, for example, wheat-favoring Spanish colonial influences once led to an attempted eradication of the corn tortilla, in the early 20th century. Further, one explanation for the proliferation of and preference for white corn tortillas (versus blue, red, yellow or purple, for example) is because of its aesthetic likeness to a wheat tortilla.
A dark history, notwithstanding, the results of a fresh-made 50/50 tortilla are worth getting excited over.
For this recipe, we love pairing the finished tortilla with shredded cheese, eggs and 'nduja sausage for a fun, nostalgic* (more on that in a moment) spin on the breakfast taco. For the eggs, we are partial to a soft scramble, which is achieved through constant stirring of the eggs over low heat.
As for the 'nduja sausage, we are life-long fans of La Quercia Cured Meats out of Norwalk, Iowa. 'Nduja (pronounced "en-doo-yah") is a spicy, cured meat spread, originating from Calabria, Italy. The exact meat selections used for 'nduja are more commonly a mixed lot, but La Quercia's is a unique combination of prosciutto and Italian-style speck (smoked prosciutto). To create the 'nduja, they use leftover trimmings from their prosciutto and speck production, mixed with New Mexican red chiles. The result is reminiscent of a Mexican chorizo, but with a cured meat vibe.
A little 'nduja will go a long way. For the unaccustomed palate, we recommend starting with a smaller amount before going to town on your breakfast taco. While shipped chilled, we enjoy the 'nduja best when gently sautéed in olive oil. The effect is a brighter color and sharper flavor overall. We'll even add a dash of sherry vinegar to it, in order to round out the saltier notes of the sausage (a dash of vinegar-based hot sauce, like our favorites Crystal or Cholula, will also do).
*True story, about two years before heirloom masa came into the picture, Masienda founder Jorge Gaviria once applied for a sales job at La Quercia. Much to his chagrin at the time, Jorge was rejected for the position, on account of a lack of formal sales experience. Instead, Jorge went on to work as a line cook at Maialino restaurant, where, when working the pasta line, he became intimately familiar with--and forever hooked on--La Quercia's guanciale, or cured pork jowl. Years later, Jorge and La Quercia's co-founder, Herb Eckhouse, became friends after meeting at a specialty food show. Upon reconnecting, Herb couldn't recall the moment he altered the career trajectory of a young(er) Jorge, but they could both agree that it had all worked out for the best.