Huitlacoche Tamales by Nixta's Gustavo Romero
Huitlacoche Tamales by Nixta's Gustavo Romero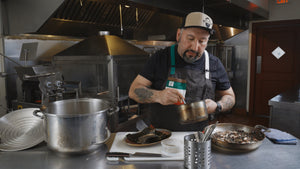 After 15 years of cooking other cultures' foods, Gustavo Romero of Nixta in Minneapolis, Minnesota, wanted to open a full-scale Mexican restaurant. His dream was waylaid when the pandemic hit and he lost his job, but with a few bags of corn and a small tortilla machine, he pivoted: after all, every city deserves a great tortilleria, and his home of Minneapolis didn't have one.
Recently he began cooking family-style dinners for takeaway, featuring dishes like these tamales made with huitlacoche (a delicious fungus that grows on corn, also known as Mexican truffle) — they'd make perfect party fare. What makes these so special is that they feature corn used in four ways — five if you include the husk! — and that the topping plays on fungus, utilizing sauteed huitlacoche alongside shiitake mushrooms.
Note: If you can't find fresh huitlacoche at your local Mexican market, you can also use frozen. The canned variety, like that available from La Costeña, tends to lack the flavor of the real thing, but will do in a pinch.