Hugo Gamino's Chicken Confit and Potato Flautas
Hugo Gamino's Chicken Confit and Potato Flautas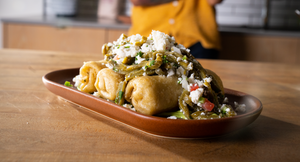 Masienda's August Chef en Residencia Hugo Gamino joins us for another delicious recipe that marries his European culinary training with the Mexican flavors he grew up eating. This time, he's making a labor-intensive but absolutely delicious riff on flautas, filled with chicken confit and mashed potatoes and topped with a bright, refreshing ensalada de nopales (cactus salad). The avocado sauce is optional, but lends an additional citrusy, creamy note to the dish.

Hugo's method of making flautas is different than one we'd seen before (typically, a cooked tortilla is rolled around a filling, maybe sealed with toothpicks, and deep fried). His method begins with raw masa, filled and rolled, which allows for an exterior crunch and soft interior, also preventing the filling from overcooking.

Note: The mashed potatoes and chicken confit can be made up to 3-5 days in advance, and the avocado sauce and ensalada de nopales can be made a few hours ahead of time and refrigerated.