Hugo Gamino's Octopus Aguachile Tostadas
Hugo Gamino's Octopus Aguachile Tostadas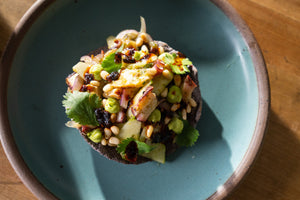 Phoenix-based Hugo Gamino, Masienda's August Chef en Residencia, is a chef and former fashion designer who tells stories through food. He reconnects to his roots by applying classical techniques to the foods he grew up eating.

His riff on classic aguachile uses cooked octopus (don't be afraid! It's not that different from cooking pasta!) and a spicy salsa verde ground by hand in a molcajete.

Garnished with lots of fresh vegetables and creamy pine nuts, this aguachile is delicious served over tostadas. Hugo made fresh blue corn tortillas (humblebrag on his part: they puffed every time) and allowed them to toast further on the comal until crunchy, but you can use storebought tostadas or make your own from leftover tortillas.

Note: if you're using frozen octopus, let it thaw overnight in the fridge before cooking.