The Art of the Tamalada
The Art of the Tamalada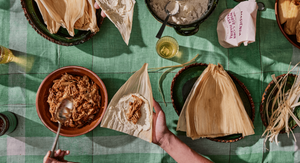 According to "La Mera Mera Tamalera" aka Dr. Ellen Riojas Clark, Professor Emerita, UTSA
A tamalada is a tamal-making party and so much more. "It's a collaborative endeavor that is historically and culturally based. It is the result of thousands of years of evolution," says Dr. Clark, who has hosted tamaladas in San Antonio, Texas, for the past 40 years. "You can't have a tamalada without history, without culture, without family and friends." While there are no rules when it comes to tamaladas, there are traditions, and Dr. Clark was kind enough to share some of the rituals that she and her family have come to embrace over the years.

YOU NEED A LOT OF HELPING HANDS

It's a learning process, so invite anyone who might want to get involved. I was a professor for forty years, so in addition to inviting family and friends, I also invited students. If you're new to this, start with a small group, no more than six people. You want to figure out the process. If you have too many people, it gets jumbled.

PREPARE YOUR FILLINGS IN ADVANCE

I always make chicken and pork, and I freeze them ahead of time so that on the day of the tamalada, we're really assembling rather than cooking. Each year, I have a contest to invent a new tamal, too. My granddaughter is vegetarian, so sometimes we improvise something like a simple bean-cheese-jalapeño tamal.

SET THE SCENE

For my masa, I use cazuelas made of barro (earthenware ceramics). Sometimes I use my stand mixer to prepare the dough, but I transfer it to the barro when it comes time to assemble, since I think it's important to not only use these beautiful, traditional tools but also to feel the masa with the warmth of your hands.

DON'T HESITATE TO DRESS UP

In my family, we wear earrings and nicely starched aprons. In fact, it's the only day each year I wear an apron! I always put on lipstick, too. It makes it a formal informal event, and by dressing up, you're really honoring the tradition. 

START EARLY, BUT NOT TOO EARLY

I like to invite folks to come over around 10am. It gives you time to soak your hojas and warm your fillings on the stove. People will come late and leave early, and that's okay. Ask your invitees to bring a pot so that they can fill them with tamales and take them home to cook if there's not enough room on your stove.

YOUR WORKERS NEED TO BE FED

I always set out a turkey and a ham, soft drinks, and tequila. It's a joyous occasion, but it doesn't have to be fancy! I do, however, think it should be decorative. You honor the event and you honor the workers, your colleagues.

CREATE STATIONS

I have a station for meat and a station for masa. Some people will learn how to embarrar (spread masa), others will learn how to fold and tie, if they don't already know. Only one person should be responsible for putting the tamales in the pot — it's an art form — and it should be someone who's experienced at the job, typically one of the matriarchs or elders. As host, my job is to make sure everything is running smoothly. I'm the conductor.

FOR THE TAMALES TO BE GOOD, THE CHISME (GOSSIP) HAS GOTTA BE HOT

You need storytelling, gossip, laughing, and crying. It's a time to reminisce, to think about the last time you gathered and tasted these flavors. You feel a connection to the past, your family, and perhaps even ancestors you didn't even know.

TASTE TEST

When the tamales are thought to be done, typically the matriarch pulls one out from the middle and from the side. Everyone stops what they're doing, you open this gorgeous tamal, and allow its smeljoul to permeate the room. I'll usually take the first taste, that's part of the ritual. Whoever knows the most, they're the judge. Do you need to adjust anything? Now's the time to add more seasoning to your masa or your fillings, and then it's back to work.

JOY HAS TO BE PART OF THIS

Just remember the main ingredient of a tamalada is fun. Why not develop your own tradition and make it unique to your tamalada? For example, everyone has to tell a joke, share a memory, talk about a spice they hate, or play a certain song every year. Make people laugh or cry, and make your tradition worth repeating. You're only at a tamalada once a year, so this is special! Make it enjoyable! After all, you want people to come back year after year.