Masienda Presents: Gustavo Romero of Nixta
Masienda Presents: Gustavo Romero of Nixta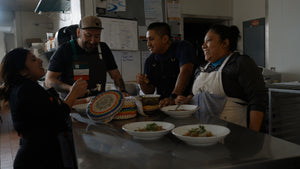 To introduce you to Gustavo Romero, the tortilla maestro at the center of our newest episode of Masienda Presents, we called on his friend, supporter and fellow Mexicano in Minneapolis, Jorge Guzmán. Guzmán is the James Beard-nominated chef and owner of Petite León and Pollo Pollo Al Carbon and the executive chef of Sueño in Dayton, Ohio. Jorge was the first chef to sell Nixta's tortillas, helping create its city-wide popularity. Read on for Jorge's account of stumbling upon Gustavo's genius as he got his start cranking out tortillas in a hotel basement in 2018. 
Text by Jorge Guzmán 
It was September 2018 and I was climbing down the stairs to find Gustavo at Mercy restaurant, which was located in the basement of the Meridien Chambers Hotel in Minneapolis. I had my first Pollo Pollo pop-up scheduled and I needed legit, authentic tortillas. As I wrapped around the maze of the kitchen, I finally found him pressing the freshly ground masa in his grandmother's wooden tortilla press and laying each tortilla expertly down on the plancha. That image is still burned into my memory. There is a certain way to lay down tortillas on a comal or plancha and you can tell right away if whomever is making them has done it before. It's an art, the whole process of making tortillas is an art and Gustavo is our Diego Rivera. He stacked them and wrapped them in brown butcher paper and then into a plastic bag — just like you'd get at the mercado. These were the first tortillas of many that I would use in all of my pop-ups. Now, I exclusively use his tortillas in my restaurant at Petite León. To find authentic tortillas in Minneapolis in 2018 was pretty much impossible. Before it was trendy, Gustavo was nixtamalizing, grinding, pressing and making the best tortillas in town — he still makes the best tortillas in town but now he does it out of Nixta Tortilleria, his proper cocina. What Gustavo represents is more than just tortillas and Mexican food. He represents our people and what it means to be Mexicano. To make tortillas in one of the most northern states in the country takes huevos grandes and he said a la chingada and made it happen. To be able to support a fellow Mexicano in my restaurant makes me incredibly proud. He is changing the landscape of how people perceive Mexican food, one tortilla at a time.
Nixta is located at 1222 NE 2nd St in Minneapolis, Minnesota. To learn more about who near you is embracing heirloom corn and the tradition of nixtamalization, check out our Masa Map.