Masa, But Make It Pie!
Masa, But Make It Pie!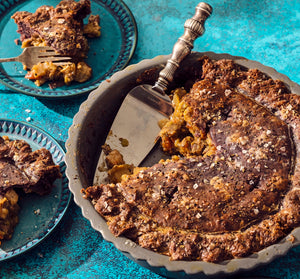 Masa harina is a versatile ingredient that can be used to make more than just tortillas and tamales. Because of its deep, complex flavor and pillowy-soft texture, masa harina is also great for baking. We think it's the next big alt flour, but don't take our word for it!
Master pie maker Stacey Mei Yan Fong fell in love with the U.S. while listening to Dolly Parton and watching old Hollywood movies in her hometown of Hong Kong. Now residing in Brooklyn, New York, Stacey set out to write a cookbook comprised of fifty pies, with one pie inspired by the regional specialties of each state in the USA.
Her book, 50 Pies, 50 States comes out on June 13th. Stacey was kind enough to give us a sneak peek recipe at a savory pie filled with a slow-cooked beef and pork stew, inspired by the Land of Enchantment, New Mexico. Stacey's Green Chile Stew Pie features a blue masa harina crust that can be adapted for use in any savory or sweet pie recipe.
Happy baking!