Masienda Presents: Matt Diaz of For All Things Good
Masienda Presents: Matt Diaz of For All Things Good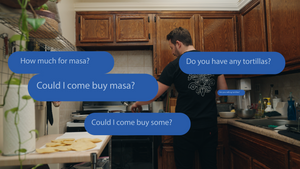 This is the story of how a hunger for fresh corn tortillas, a pandemic reset, and a little Molinito that could birthed one of Brooklyn's most enticing new dining destinations: For All Things Good. 


When the pandemic hit, Matt Diaz's work as a wine consultant slowed to a pause. While others were stuck at home baking sourdough, he turned his Brooklyn kitchen into a makeshift molino. He ordered a Masienda Molinito and began to perfect his homemade masa as a way to experience the type of real tortillas that weren't available in New York. He posted his experiments in nixtamalization on Instagram, and people started DMing him to order. Just months later, he opened his all-day cafe and molino with business partner Carlos Macias and named it For All Things Good, inspired by the Mexican expression "Para todo mal, mezcal. Para todo bien, también" (For everything bad, there's mezcal. For all things good, [mezcal] as well). 

For All Things Good has become a beloved all-day café serving high-quality masa antojitos that are mostly vegetarian and break free of the taco genre. Think quesadillas with fresh zucchini blossoms and queso oaxaqueño, black bean tlayudas topped with fried shallots and cilantro delfino, memelas, tamales, tlacoyos, chilaquiles and more. One would think that in a city as expansive as Big Apple, satisfying a craving for masa wouldn't be such a challenge. Now, thanks to For All Things Good, getting your fix of Vitamin T is delightfully within the reach of anyone with a Metrocard. 

Photography by Adam Friedlander courtesy of Masienda. 
For All Things Good has two locations in Brooklyn: 343 Franklin Ave. in Bed Stuy and 314 Grand St. in Williamsburg. 

Interested in learning more about the Molinito? Send us an email at molinito@masienda.com.