These Corn Thumbprints are Perfect for Your Holiday Cookie Box
These Corn Thumbprints are Perfect for Your Holiday Cookie Box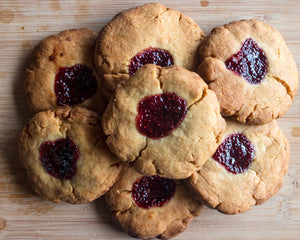 Mayra Sibrian
is the owner of Seattle, WA's
Selva Central Goods
, a pop-up bakery inspired by her Mexican and Salvadoran roots. Her pan dulce relies on traditional and natural ingredients, sourced locally, with the intention of giving the Latinx/e community a taste of home and introducing her culture to those who are unfamiliar. Before opening Selva Central Goods, Mayra worked in restaurants and bakeries throughout Southern California, Seattle and  appeared on Netflix's "Sugar Rush" and Food Network's "Big Time Bake."
Her atole-inspired cookies are a corn-forward take on the classic thumbprint cookie (they feature our finely ground
Heirloom Yellow Corn Masa Harina
as well as coarser cornmeal for a study in corn texture), and come together quickly. Bookmark these for your holiday cookie baking!