Hugo Gamino's Black Bean and Cheese Tamales
Hugo Gamino's Black Bean and Cheese Tamales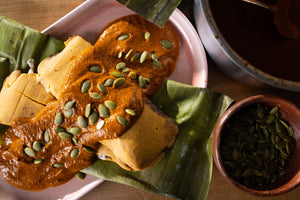 "The way I was raised and taught, the masa is the most important thing." Sounds to us like Hugo Gamino was raised right! The chef and former fashion designer is focused on reconnecting to his roots by applying classical techniques to the foods he grew up eating.

The masa in his tamales is flavored with a mole-like sauce rich with chiles, nuts, and seeds. The same sauce gets poured on top of the tamales to serve, for added moisture and flavor, pairing beautifully with a filling of black beans and queso Oaxaca.

Hugo's method of making tamales is one he learned when he was working in fine dining, from another back-of-house cook who made them for family meal. By pressing the masa with a tortilla press, filling, and rolling, he creates a tidy package that's easy to fold into a banana leaf and makes for even, perfect steaming.