Masienda Presents: Arturo Enciso of Gusto Bread
Masienda Presents: Arturo Enciso of Gusto Bread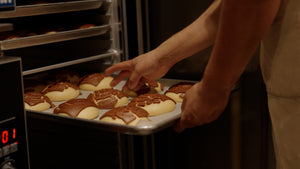 Arturo Enciso and Ana Belén Salatino refer to their Long Beach spot Gusto Bread as a Californian bakery, and in doing so, they're quietly defining exactly what it is that means. Inside, the aroma of burnt sourdough crust commingles with the scents of Mexican pan dulce and damp, earthy nixtamalized corn. It smells familiar — but a bit different, too.

According to Arturo, it all started nine years ago, when he found himself with a wood-fired oven just behind his bungalow. He fell in love. Deeply. He hadn't baked much bread before and didn't necessarily have aspirations to work at a bakery either, but he pored over Richard Miscovich's famous bread book and committed himself to learning about grains, fermentation and all the magic and science required to turn flour and water into something as primordially satisfying as a loaf of fresh bread.


But having baked his way through dozens of European-style breads, Arturo felt like something was missing: "I still felt like, okay, that doesn't translate to my other identity, my true identity, the flavors I grew up with that were familiar to me and tasted more like home. That was more geared towards Mexican breads." So, he did something about it. Arturo opened Gusto as a cottage bakery within his and Ana's living room and churned out loaves for neighborhood restaurants and weekend farmers markets that were an expression of his identity as well as the geography of California, Mexico and the Southwest. He was drawn to heirloom grains and local, seasonal ingredients and eschewed yeast for homegrown masa madre. He started experimenting with sourdough concha recipes, schooled himself in nixtamal and grew a steady, loyal following for his unique creations like the Nixtamal Queen, a masa-fied version of a kouign-amann. Eventually, Gusto outgrew the house and moved into a cozy storefront on E 4th St.

Days before we were to film at Gusto, Arturo needed to cancel due to a staffing shortage. Two days of having us and our cameras around was going to impede their operations. They needed to bake and sell bread. We weren't dispirited, though. In fact, the opposite. We were more enamored with Arturo's monastic devotion to his bread and his community of customers. We promised to reduce our footprint and be minimally disruptive. We arrived in the madrugada — the wee hours — and hung with Arturo and Ana until the sun was high overhead. No matter the hour, however, there is a quiet calm to the place.
'Am I in Berkeley? Am I in Oaxaca?' you may wonder, noting the piles of fresh loaves stacked under white stucco arches. If you feel like you're drifting between worlds, then you're a bit closer to Arturo's experience as a Chicano living in Southern California. But once you tear into, say, a pan de ajonjolí brushed with California olive oil or take a sip of a satisfyingly bitter Xocolatl, you won't want to be anywhere else. You are at Gusto. You are at home — maybe not your own, but Arturo and Ana's.
Gusto Bread is located at 2710 E 4th St in Long Beach, California, 90814. Photos by Mitchell Maher courtesy of Gusto.
Masienda Presents is our new series of short films about people, place and masa. Subscribe to our YouTube Channel to be the first to know about new episodes.