Ana Castro's Chilaquiles Verdes
Ana Castro's Chilaquiles Verdes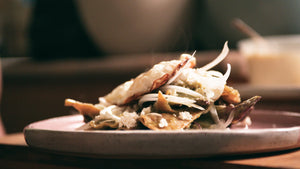 In a recent episode of In The Kitchen With, Chef Ana Castro of Lengua Madre in New Orleans (one of Food & Wine's Best New Chefs, 2022) shared her grandmother's recipe for the Mexican breakfast classic: chilaquiles in a spicy, bright salsa verde. These are infinitely adaptable: tone down or amp up the spice; slice, dice or shave your onions for the topping (or all three if you're as gracious as Ana's abuela); substitute the fried egg for pulled chicken if you're serving them for lunch or dinner; make them vegan by skipping the egg, cheese and crema and topping with roasted veggies or scrambled tofu.

The recipe is surprisingly easy — you're essentially making a salsa which which you smother a big pile of totopos and then garnishing to your liking. But if you're new the world of chilaquiles, read on for some answers to commonly asked questions before digging into the recipe below.
What are Chilaquiles?
The word chilaquiles is derived from the Nahuatl terms for chiles and greens. According to The Kitchn, this typical Mexican dish, consisting of fried corn tortillas simmered in a brothy salsa was introduced to an American audience when it was featured in The Spanish Cookbook by Encarnación Pinedo in 1898.
This quick, delicious and affordable dish is the ultimate comfort food, and can be prepped in advance. If you've got day (or more)-old tortillas lying around, frying them up makes for the most flavorful, crispy totopos. Otherwise, feel free to use bagged tortilla chips.
What's the Difference Between Chilaquiles Verdes and Chilaquiles Rojos?
The salsa! Chilaquiles verdes like Ana's rely on a tomatillo-based salsa verde (typically a little tangier, with heavy cilantro flavor), while chilaquiles rojos employ a tomato-based salsa (sometimes a bit on the sweeter or smokier side, depending on the chiles used). For those who can't decide, chilaquiles divorciados serve both on the same plate.
How to Serve Chilaquiles
Bring the pan (or bowl) and garnishes to the table and let guests serve and top their own, or chef it up like Ana Castro and plate each serving of chips with a ladle of salsa (keeps them crispy, as opposed to letting them soften by simmering in the salsa), and garnishes.