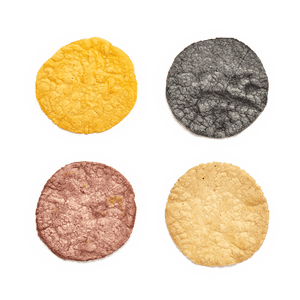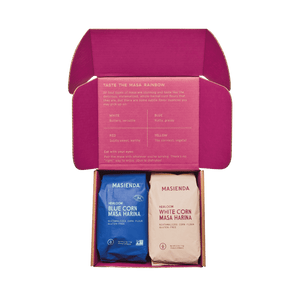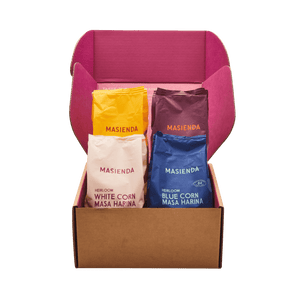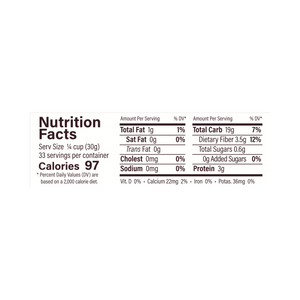 See the product in action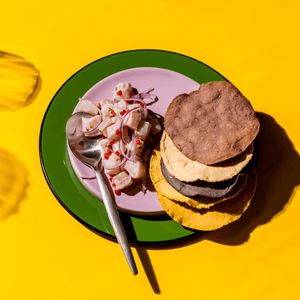 The gang's all here. 'La Familia' is a collection of all four types of our nixtamalized Heirloom Corn Masa Harina: White, Yellow, Blue, and Red. Their deep flavor and vibrant colors come from single-origin heirloom corn grown in Mexico, which is then cooked, dried, and finely milled in small batches. Making masa is as easy as mixing a cup of masa harina with a cup of water. Enjoy warm, homemade tortillas in minutes.
This item is currently unvavailable. Sign up to get notified when it is back in stock.
This item is currently unvavailable. Sign up to get notified when it is back in stock.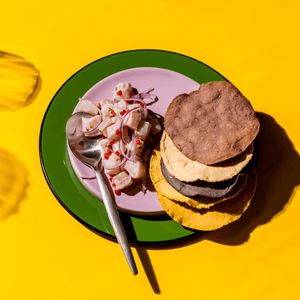 Single-Origin Heirloom Corn
Great Gift
100% Made in Mexico
Supports Small-Scale Agriculture
Taste the Rainbow
Taste the Rainbow
One of the most common questions we get at Masienda is, "What's the difference between the colors of masa harina?" The vibrant colors of each type of corn flour come from the corn's naturally occurring pigments. You can use any color for any masa application, but there are subtle differences in flavor and texture that lend themselves better to different types of recipes. More notably, certain colors often have regional associations based on corn varietals historically availability in the area. But the diversity of colors is really an invitation to explore and get creative. Do you want that bright look of a classic tortilla? Try yellow! And if you can't choose, feel free to play around and even mix colors.
Read More
"Once you try making tortillas with Masienda Masa Harina, you'll never go back to store-bought."
The Kitchn
"Ultraspecial ... showstopping."
The Strategist
"Our go-to for masa harina."
Bon Appétit
Taking Tacos to a New Level
Taking Tacos to a New Level
We're of the mind that the tortilla makes the taco. You've put so much love and care into your toppings and fillings — scouring the market for the freshest ingredients, spending hours stewing meat, pickling onions, and grinding salsa — why serve the fruits of your labor atop a mediocre tortilla? Once you've tried tucking those fillings into a pillowy, handmade tortilla bursting with the flavor of heirloom corn, it's hard to go back to store-bought.
How to Make Tortillas