Our Founder on What's To Love About The New Masienda.com
Our Founder on What's To Love About The New Masienda.com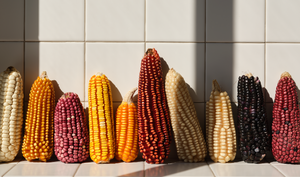 Bienvenid@s. This is our new blog. Or magazine. Or journal? We're still figuring out the nomenclature of this here digital publishing platform, but it's one of the many elements I'm excited to introduce as part of our new website, which we announced today in our newsletter (you're subscribed, right?). It's been nearly a year in the making, and I am very grateful to our collaborators and team members who made this all possible.
Building a new website requires a lot of self-reflection. Where are we coming from? Where are we going? It's a great feeling to finally be able to share it widely with with all of you. It's still a work in progress (aren't we all?), and we have even more features to roll out over the coming months. So, as always, we'll keep you posted and look forward to hearing what you think.
Now, without further ado, here's my rundown of what excites me most about the new Masienda.com.
-Jorge
Last year, we started working with the uber-talented photographer duo, Michael Graydon and Nikole Herriott, for my forthcoming cookbook Masa: Techniques, Recipes and Reflections on a Timeless Staple (coming Sep 13). Michael and Nikole had previously shot cookbooks for some of our friends (Travis Lett's Gjelina and Andrew Tarlow's Dinner at the Long Table), and we'd admired their work ever since.

By the time we finished shooting the book in May of last year, we knew that we needed a new site with a look and feel that would complement the creative direction that Masa had taken us. So, we brought the gang back together for a three-day shoot in Los Angeles, covering BTS looks at some of our local partner restaurants, molinos and tortillerias, which you'll see these peppered in throughout the Wholesale section of our site. The way Michael and Nikole see the world is with so much curiosity and sensitivity — every shot vibrates with life and a sense of place. We think our delicious heirloom corn and the hardworking network of farmers who help bring it stateside deserve nothing less. Thank you, Graydon Herriott team.
Pictured: Claudia Zarate Escamilla, Dorotea Escamilla Rojas, Benigno Vázquez Ramírez of Santos Reyes Nopala, Oaxaca, during the planting season of White Olotillo heirloom corn. Photo by Graydon Herriott.
I'd been a fan of The Perennial Plate, the James Beard Award-winning documentary short filmmakers, since the earliest days of Masienda. We began collaborating with the husband-and-wife duo, Daniel Klein and Mirra Fine, back in 2015 and finally brought Daniel on board full time earlier this year as Masienda's very own Creative Director of Video. Among stories coming soon is a series we call Masienda Presents, which explores the different ways masa intersects with our lives. Featuring chefs, bakers, activists, moliner@s and more, each episode finds inspiration in an origin story, through a memory, from innovation or out of struggle. If you haven't already, take a sneak peek at the trailer for all the good feels.
At Masienda, we're on a mission to connect more people to the culinary and cultural richness of the Mexican kitchen, and storytelling is central to getting there.
Over the next few weeks, we'll expand to cover a range of essays, recipes, and deep-dive guides. Think of it as our own growing online magazine, complete with guest writers, chefs in residence, and original videos. Orchestrating it all behind the scenes is Masienda Brand Director, Hallie Davison, who joins our team fresh off of showrunning Netflix's acclaimed series, Taco Chronicles (Las Crónicas del taco). As a writer, director and producer for the show, Hallie is a seasoned talent that not only brings a depth of editorial experience to Masienda's platform but also fresh perspectives and stories from the heart of our shared cocina.
For our industry partners, we're real excited to bring Masienda's wholesale hospitality experience into the 21st century. That's right, friends, we're making masa history by offering all wholesale ingredients online for both parcel AND freight fulfillment. This means that you'll be able to build orders for single bags and/or pallets at your convenience, drawing on all inventory we have available in real time. Give it a whirl.
Since launching in 2014, Masienda has found a following within the chef community. Thanks to early partners like Enrique Olvera and Daniela Soto-Innes, José Andrés, Alex Stupak, and Carlos Salgado, word spread quickly and kept us busy building custom masa programs for some of the best restaurants in the world. As our reach has grown, so too has our catalog. Today, we have more than ever for the home cook. I'm thinking of our Doña Rosa x Masienda Tortilla Press (the world's best, if you ask me), a handsome Molcajete ready to become your next family heirloom (back in stock soon!), and our Comal, the workhorse griddle that every kitchen needs. All of these pieces happen to be functional, stylish, and supremely giftable. Throughout the year, we'll be bringing even more into the mix (Spoiler alert: Coffee collection is coming soon!), as we continue on our mission to celebrate the rich culture that surrounds masa.
¡Disfruta!

For more updates from me + the team, subscribe to our weekly newsletter.