Molinito stone program: How do I replace my stones?
Molinito stone program: How do I replace my stones?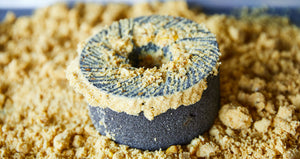 Whether manual or mechanized, we have yet to find a better piece of technology for grinding nixtamal into masa than the traditional surface derived from volcanic rock (basalt). Volcanic rock is naturally porous, filled with thousands upon thousands of tiny nooks and crannies that give nuance and aeration to the finished masa. And whereas blenders, hand-cranked mills and food processors use metal blades or plates to simply cut the contents inside, Molinito's volcanic stones cut, mash, knead and even mix the contents together for a well-integrated mass.
Welcome to that heavenly puff that tortilla dreams are made of. Now we're grinding.
Molinito's stones come directly from the heart of basalt country, Puebla, Mexico. Each set is fitted specifically to Molinito 1.0 and cannot be used on other molinos.
Replacements vs. Sharpening?: While we are happy to provide stone sharpening services for reuse, the total cost (i.e., round-trip shipping and the hand-carving service itself) is currently more expensive ($125 per set) than buying a new set of stones ($75 plus shipping). If you would nevertheless like us to sharpen your stones, please email us at [email protected] (Subject: Stone services requested), and we will accommodate your request. Of course, you are also always welcome to sharpen your existing stones in-house, should you prefer.
To recap, you may choose one of the three options:
Replacement stones via Masienda.com ($75 plus shipping for one pair and $250 plus shipping for four pairs)
Masienda stone servicing ($125, shipping included)
In-house/local sharpening solution (separate from Masienda or Molinito)
In any event, we recommend using one set of stones at a time; this way, when one set is worn down, you have a fresh replacement set to hold you over until your original set has been replaced.