Introducing the Masienda Coffee Collection
Introducing the Masienda Coffee Collection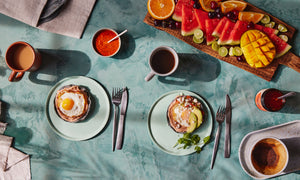 We spend a lot of our time here at Masienda talking about the similarities between corn and coffee, as crops and as movements in the way we consume agricultural products in the US. Our concept of Third Wave Masa is based on the three waves of coffee consumption in America's recent history. It's exciting for us to see that folks are now searching for 'single-origin' corn, showing curiosity around different varietals and their provenance, and investing in the important work of traditional farmers. We're grateful to the coffee industry for blazing that trail, so that we can enjoy the 'Golden Age of Masa' that we're currently experiencing. 

Another reason why we're so keen on coffee? Many corn farmers in Oaxaca, where our local team is based, are also coffee farmers. While coffee is a shade plant, corn likes full sun, so often the farmers maintain separate parcels of land in different microclimates. So it was sort of inevitable that, after years sourcing heirloom corn, we had to get our hands on the best Mexican coffee. 

Sourcing the Best Coffee Beans in Mexico
While the supply chain for heirloom Mexican corn was ripe for disruption when Masienda was founded in 2014, the Mexican specialty coffee industry has grown tremendously in recent years. One of the OGs of third wave coffee Mexico, known for setting the bar high, is BUNA. We're thrilled to partner with these masters of the craft to introduce our Coffee Collection.
BUNA is a certified B-corp specialty roaster with a mission to conserve Mexican ecosystems through the sustainable trade of coffee, as well as honey and chocolate. Beyond their mission, which dovetails perfectly with Masienda's, BUNA coffee is flat-out delicious. Our inaugural Coffee Collection features two of our favorite blends: Alebrije (a fruity, medium roast) and Dalia (a comforting dark roast). Check out the video from our trip visiting a coffee grower in Oaxaca's Sierra Mazateca. 

And because the best coffee deserves the best mug, we are also proud to introduce gorgeous ceramic mugs from La Chicharra, Oaxaca's leading ceramics studio, in three stunning colors. This is a mug that looks as good as it feels — sturdy and balanced in your hands, and eye-pleasing on your kitchen table. Take it from us: This dream team makes for a truly sublime daily wake-up ritual. In the months to come, we'll be rolling out additional ceramic offerings to complete your AM tablescape, so stay tuned. We can't wait to share more. 

Provecho, amigxs! 
More About BUNA Coffee
For the past decade, BUNA has worked with small farms across Mexico to produce what they call café rico: delicious coffee that preserves Mexican ecosystems, and maintains the livelihoods of the farmers who maintain the ecosystems where coffee is produced. They work with over 350 producers in Oaxaca, Veracruz, Chiapas, the State of Mexico, Guerrero, Tabasco and Hidalgo, all of whom are committed to biological agriculture.

The BUNA team travels around the country to educate themselves on Mexico's ecosystems and uses that information to implement agroecological practices into the farms they work with, creating a set of best practices to preserve the local land and farm coffee in the most ethical way possible. By regularly visiting with all of their producers, they maintain working partnerships that allow them to monitor the soil and understand the needs of their farmers.

In their Mexico City lab, they test soil in order to help their producers improve soil management and therefore increase biodiversity and maintain strong crop yields. This practice is part of the company's mission to ensure fair pay for their farmers. By paying farmers in advance of the harvest season, they provide the capital needed to hire more workers and provide better-quality coffee, ethical working conditions and a healthier ecosystem.

"If this delicious coffee is building an ecosystem, then it is regenerating soil, it is regenerating a region, it is regenerating life and generating well-being for our producers," says Kike Medina, BUNA's Commander-in-Chief of Quality.

We're partnering with BUNA because of their focus on sustainability, both for the small family farms they work with and in terms of preserving the local soil and the crop through cross-farming. They are committed to increasing parcel productivity, reducing production costs and building long-term business relationships. In a volatile market like coffee, that's a win-win. 

Shop the Coffee Collection at Masienda.com.