Masa Shapes: Champurrado
Masa Shapes: Champurrado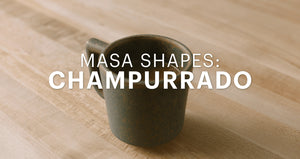 When temperatures drop, we're more than ready to swap our typical agua fresca (made with heirloom hibiscus of course) for a drink that's slightly more decadent, warming, and, well, seasonal. Cue the champurrado.
Champurrado is enjoyed year-round for breakfast throughout Mexico, specifically Oaxaca, including special occasions like Dia de los Muertos and Las Posadas. It is often accompanied by pan dulce (for dunking) and tamales (because more masa is always better than some masa).
Champurrado is a delicious blend of delicate spice and rich texture. At once light and aromatic, the corn masa base gives this cacao-flecked beverage a heartier mouthfeel than your average hot cocoa. This warm, drinkable way of using masa harina is considered an atole — and it pairs perfectly with the holidays.
…So what's an atole?
The word atole is derived from the Nahuatl word atolli. Plain atole is a staple of Yucatán, Tabasco and Oaxaca and is the result of liquefying masa, traditionally with water, but milk is also an option. Given the true simplicity of this dish, it's not hard to imagine it being among the earliest Mesoamerican culinary staples; it's nutritious, a solid source of calories and easy to flavor in any number of ways.
In its simplest form, atole is masa and water, combined, and brought to a simmer. That said, not all atoles are necessarily corn masa-based; rice and wheat can also be used.
Atole's texture and flavor range according to region, season, personal preference and an area's corn supply (thin atoles are common where corn inventory is scarce). Champurrado, derived from the word champurrar ("to mix"), is a sweet atole infused with cacao, sugar and (sometimes) additional spices like cinnamon. Champurrado is similar to the Yucatecan variation of atole tanchucuá, which may incorporate maíz nuevo and additional ingredients like black pepper, anise and allspice. And speaking of pepper, chile atole is a savory atole preparation made with – you guessed it – chiles and salt.
Pozol (or chorote, when mixed with cacao) is an atole variation made from a fermented masa base that is most commonly enjoyed in Tabasco. And of course, there's the refreshing fermented masa drink, tejuino, a favorite throughout Jalisco and northern Mexico, served chilled with lime, salt and chile.
In short, masa drinks are endlessly creative – from salty to sweet, hot to cold, each variation boasts distinct flavors, spices and drinking occasions.
And with that blank canvas, we set out to create an atole that would best showcase the superior flavor of our Heirloom Corn Masa Harina made with nixtamalized heirloom white olotillo corn. We chose champurrado because of its bouquet of ingredients: dark chocolate, sugar, cinnamon, salt, nutmeg, cayenne.
Because sourcing integrity is a foundational element of our products, we were especially thrilled to partner with Cultura Chocolate for the chocolate in the Champurrado Mix that we created. Cultura owner Damaris Ronkanen is a Masienda wholesale partner (check out her café in Denver featuring tasty heirloom masa meals and delicious chocolate) and she sources the cacao for her 70% Mexico chocolate directly from Tabasco. It is criollo white bean cacao in limited supply, so we feel fortunate to have secured some before they ran out for the 2020 season!
Masienda team member Jess Stephens (of Empellón, Onda and The Modern) created our exclusive Champurrado Mix with stovetop ease in mind. Simply add water, milk (dairy or non-dairy), heat, stir and enjoy — frothing encouraged, but certainly optional. Check out our quick video on how to prepare.
Pro Tip: If you're trying to cut down the serving size, consider adding the entire contents of the bag into a bowl, mixing thoroughly, and measuring the exact quantity you'd prefer using.