Masa Feature: White Bolita (Oaxaca)
Masa Feature: White Bolita (Oaxaca)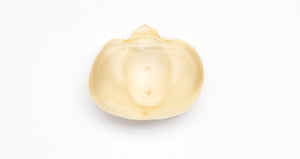 Friends, given the time warp in which we all seem to find ourselves, we have passed an executive order to convert Masa Feature to a weekly special, for now. And, damn, this week is special. We've been seeing some incredible cooking from so many of you at home, most of whom are making masa for the very first time.

Recently, we were especially blown away by the results of Justin Crawford (@ipecacfoods), a home cook performing masa miracles using a hand-cranked mill (that's right, no Molinito required).

Pre-covid days, Justin Crawford is a bartender at San Francisco's famed Nopa restaurant. Since the shelter-in-place order, he has used the opportunity to take on the kernel-to-masa process at home. Justin puffed his way to masa glory from the very first batch of tortillas he cooked, and even with a hand-cranked mill, he's gotten a consistent puff on every batch he's made. He's actually gotten so good that he's now feeding his fellow SF industry friends through contactless delivery.

Justin graciously agreed to (remotely) cook white bolita together for Masa Weekly. In order to provide some nuance for approaching the same varietal, we assumed slightly different angles for the white bolita—from cook times, to grinding method to final dishes. As you can see from Justin's tetela and tortilla puff, the results were pretty delicious (he's also clearly much better at food styling than I'll ever be!).

Our preparation notes, from kernel to finished tortilla, are below, with hyperlinks to each chapter of our Kernel-to-Masa series on Masienda's YouTube channel, making it easy to follow along with our go-to instructions for preparing any varietal.

If you you're not feeling ready to jump into making masa from dry corn, you can also replicate these dishes with our Heirloom Corn Masa Harina.

Feel free to post any questions or comments below!
This lot of white bolita was grown by Don Jorge from Oaxaca's central valley (Santa Ana Zegache to be exact). The bolita landrace is the backbone of Oaxacan tlayudas, the large-format (13″-15") tortillas and tostadas found throughout the region. With its dense, crystalline starch, it's easy to see how this landrace can support the structure of such a large tortilla without falling apart (the texture will have a more toothsome finish, you'll notice).

Justin: This was my first time working with white bolita, though I have worked with bolita beltaove and blue bolita in the past. This had very consistent kernel size throughout. My end goal was a table tortilla intended for both tacos and tetelas, which are basically crepes made of masa.

Jorge: I'd been craving memelas for a few days now. Memelas are essentially thick tortillas that are commonly slathered in pork fat (asiento), refried beans and cheese. I happened to have some bacon fat, Masienda refried heirloom black beans and queso fresco in the fridge, which made this a particularly satisfying craving to fill.
Cook:

Justin: I cooked the bolita in a cast-iron pot over a gas range. Added 250 grams of corn + Cal (2.5 grams = 1%) + water (500 grams = 200%) in the cold pot. Slow heat up over medium heat then kept at a low simmer (205 F) for 46 minutes until pericarp slipped off without effort, then heat was cut off and pot covered. Oily and intense corn aroma like good corn chips. Bright yellow color when done.

Jorge: I used an induction burner with an enamel-covered steel stock pot. 1% cal ratio for 5 lbs of corn (0.8 oz of cal total) with enough water to cover about 3 inches above the corn. I brought the corn and cal water up to a boil, which took 20 minutes. I then dropped heat to med high (201 F) for the remainder of the cook. The skins/pericarp came off easily after 31 minutes total, but corn flavor was still not quite bloomed. Despite not being fully cooked fully through, I turned off the heat at 32 minutes as an experiment to see how much the residual heat and soak would help cook the corn through and further develop the flavors.
Justin: 12-hour steep

Jorge: 16-hour steep. Final temperature was 71 F. Nixtamal was slightly softer from residual cook, but another 5 minutes of cooking over the heat would have been perfect. Flavor was definitely there, but not as robustly as it could have been with additional cook.
Justin: Drained in fine sieve, all solids collected. Then 50% left untouched and 50% fully rinsed. Final weight of pre-grind corn = 416 grams.

Jorge: 100% washoff in a large colander because I wanted a quicker grind time with Molinito (which fewer skins helps achieve) and knew I wouldn't be needing masa for a super pliable tortilla.
Disclaimer (Jorge): I have always tried managing expectations when it comes to grinding with a hand-cranked mill and, yes, have even said that it's impossible to get a solid puff with this method. As Justin demonstrates, a puff is absolutely possible with a hand-cranked mill. I clearly underestimated what most of us would be willing to do in order to achieve a puffing tortilla (i.e., three passes at least through the grinder), which is why I was so thrilled to see and share Justin's finished product with everyone at home. While a stone mill will always have an edge over a metal mill (it cuts, mashes, kneads and mixes instead of just cutting the nixtamal), it's fair to say that a metal mill can hold its own when it comes to producing a puff.

Justin: I used an Estrella manual grinder. Three passes total. Hydrated with 30% of original weight of corn through the process of grinding (75 grams). Hydrated to touch to make press-ready. Final yield = 425 grams. Note: 65 grams of loss due to masa in auger well at the end.

Jorge: Molinito grinder. Very fast grind (maybe 3-4 minutes total) due to no skins on nixtamal. A hair finer than a recipe tortilla masa, but still coarser than a table tortilla masa (where no particles can be felt between your fingertips). You could still see light flakes of nixtamal in the masa, which was not necessarily traditional but what I wanted to taste today.
Justin: Mixed with paddle attachment of KitchenAid for 5 minutes.

Jorge: Hook attachment of KitchenAid for 5 minutes. Shutting off occasionally to push masa back to center of the bowl before restarting. Lots of water to rehydrate, since I was starting with a cooked nixtamal that was on the dryer side inside (because it wasn't fully cooked to the right al dente).

Justin: Doña Rosa x Masienda tortilla press. I pressed softly and flipped two to three times to get a nice even circle. Pressed rather thin. Cooked tortilla in a cast iron pan over medium-high heat. Pan wiped with very lightly oiled cloth between tortillas to aid release. 30 grams portioned masa per tortilla. Light spritz of water on tortilla immediately prior to first flip. First flip as soon as tortilla moves freely in shaken pan. Then light pressure applied to center of tortilla with silicone spatula during second side searing. Second flip and it wanted to puff right away. A little coaxing and away we go (45 seconds). Another flip for just about 10 seconds to finish the cook. 50 gram portions pressed thin. Triangles formed around duck fat refried black beans and queso fresco. Cooked 4-5 minutes per side on clay comal over high heat. Served with salsa de pasilla mixe.

Jorge: Doña Rosa press. Pressed one time very lightly for a resulting thick tortilla (memela). Seared both sides quickly (15-20 seconds each side) and removed from heat to create indentations in the tortilla on one side with my thumb. The indentations are commonly made in places like Oaxaca to create little pockets where the asiento can collect--the texture of the surface also makes for a nice, crusty mouthfeel. I put the side with the indentations face up, added bacon fat and beans so that they could heat up on the memela. Finished with cheese, salt and a bit of tomatillo salsa.

-Jorge