Masa Feature: Heirloom Blue Masa Harina (the wait is finally over!)
Masa Feature: Heirloom Blue Masa Harina (the wait is finally over!)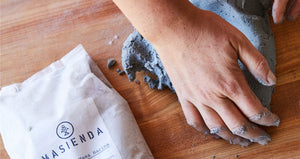 Have you ever tried to perfect something for months, maybe even years, but you could never get it just right? And then, when you finally did, you had a complete eureka (!) moment and you couldn't be more excited about sharing it with others?
That is exactly how we feel here at Masienda HQ about launching our all new Heirloom Blue Corn Masa Harina. It has been years in the making!
Why has it taken so long, you ask? It boils down (pun intended) to color. Blue corn is sensitive to cal (calcium hydroxide) and without a neutral pH (for us, we aim for a pH of 7-7.5), the masa can either come out concrete gray or blue-green (and not in a fun, tie-dye tortilla sort of way). We were getting results on both sides of the spectrum and never felt that we had landed on a product that we were proud to share and that reflected the beautiful corn from which it was made.
We produced this first round of Heirloom Blue Corn Masa Harina using our farmer partner Armando's heirloom Blue Cónico. Grown in the highlands of Atlacomulco in Estado de México, the cónico landrace (especially the blue varieties now endemic to the region) has long been coveted for its application to table tortillas. Armando maintains a 5 hectare milpa that has been in his family for five generations, which is as far back as he can personally trace. Armando almost exclusively uses blue cónico for his tortillas at home, citing a more tender texture than any other color varietal he grows. The color also translates to the most brilliant blue of any other landrace we've worked with. Its flavor and aroma are incomparable, and we're thrilled with the texture and color that result when the dry masa harina is mixed with water.
Masa flavor:
blueberries and cream-of-wheat
Masa aroma:
sweet, nutty, earthy
Masa texture:
super soft (not the most descriptive, but certainly applicable)
We are excited to experiment with other blue landrace varietals over the coming year. Let us know if you have a suggestion or are excited about a particular varietal, we would love to hear from you in the comments! (Heirloom
Blue Bolita
or
Chalqueño
, anyone?)
There are so many delicious meals at your fingertips with this masa harina and we encourage you to explore a variety of recipes and shapes, ranging from beautiful,
puffy table tortillas
, to sopes,
huaraches
and tlacoyos.
Speaking of, if you ever find yourself between Mexico City and Toluca, be sure to stop by La Marquesa National Park. Just 20 miles outside of the city, the air is fresh and the sky is bright and I highly encourage you to eat at the stands that dot the highway. Blue masa is the star of the show at all of the eateries and I opt for a blue corn quesadilla filled with tinga de pollo or a blue corn huarache topped with chorizo verde (always served with a cafe de olla).